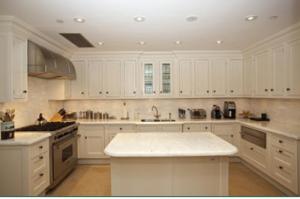 The software magnate Marty Sprinzen's $24.5 million, 4,552-square-foot, seven-room apartment at 838 Fifth Avenue, the kind of place where there's museum-quality lighting, Venetian plaster and heated Portuguese limestone floors in the entrance gallery alone, went to contract last month, according to its Brown Harris Stevens listing.
By itself, that news wouldn't mean much. After all, signed contracts don't always lead to actual deals: Last month, listing information shows, an eighth-floor apartment at the supremely fancy Verona co-op returned to the market after going to contract in April, the third time that's happened to the place in two years.
And even when mammoth apartment deals manage to close, sales prices have been arguably disappointing lately. Because even if the $10.5 million that a banker just paid at Palazzo Chupi seems like a nice sum of money, it's less than a third of Julian Schnabel's original asking price. Even at 15 Central Park West, September's $37 million sale was $43 million less than the seller's original tag.
But Leonard Steinberg, whose $26 million listing at 11 Spring Street (it was once asking $39.8 million) reportedly just went to contract, doesn't mind. "Well, there are smart brokers and stupid brokers," he said this week. "Stupid brokers will say, 'Oh my God, they're only getting a fraction of the asking prices!' And smart brokers will say, 'Those prices were insanity.'"
He has a point. What matters these days is that big swaths of top-shelf New York City real estate are actually selling, and for prices that are at least slightly respectable. It doesn't matter quite as much if sellers aren't getting the hilariously high numbers they once lusted for.
The 838 Fifth Avenue apartment—with a dining room that fits 20 guests, an antique pine library, an 850-square-foot limestone terrace and a separate staff apartment—once belonged to the philanthropist Lily Safra. She sold it to a fellow billionaire, the Swedish investor (and badminton prodigy) Thomas Sandell, for $13.6 million in early 2005. By the end of that year, it was on the market again.
Mr. Sprinzen, whose Forte Software sold to Sun Microsystems for more than half a billion dollars in 1999, paid only $15.8 million for the apartment in January 2007. So he'll be O.K. if the place ends up selling for a tad less than the $24.5 million asking price.
drubinstein@observer.com