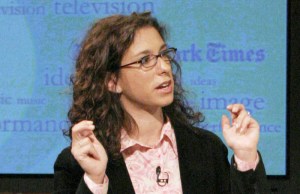 Little, Brown has given Jodi Kantor a "stunning" seven-figure deal for a book on the Obamas, reports Leon Neyfakh:
According to several sources, Ms. Kantor's book will draw on the three years of reporting she has done since giving up the editorship of The Times' Arts & Leisure section, in 2005. During the campaign, Ms. Kantor produced a number of biographical stories about the president and his inner circle, including one on his time at the head of the Harvard Law Review, one on his career as a law professor, one on his basketball-playing and one on how his friends were bracing themselves for his presidency.
This follows the Times Magazine cover story that Kantor wrote on the Obamas' marriage last month.