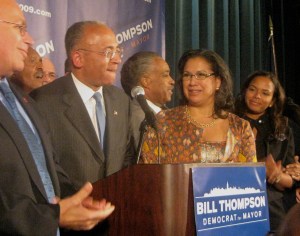 For a brief while in the Hilton Trianon Ballroom Tuesday night, there was a collective feeling that somehow, the widely held expectations of an entire city might actually be wrong.
The Hilton was host to Comptroller Bill Thompon's post-election party, where a healthy set of elected officials, Democratic Party stalwarts and other supporters gradually filled a small ballroom (a tiny closet compared to the capacious Bloomberg venue at the Sheraton two blocks away).
The short-lived flash of hope for the Democrats started at 9:50, as eyes turned toward the half dozen flatscreen TVs scattered on the edges of the small ballroom, on which NY1 displayed early results: Bloomberg 49, Thompson 48, with 17 percent of precincts reporting.
Cheers erupted as people pointed at the screens. A small gathering of supporters, standing by the bar, started chanting, "Bill Thompson, Bill Thompson."
And for the next 45 minutes or so, the number of precincts reporting went up, yet the one-point margin–smaller than widely expected by at least a factor of ten–didn't budge.
"Holy shit. 48.6, 48.2; 34 percent reporting" one Thompson aide said, glued to her blackberry.
Councilman David Weprin was glued to a TV, standing by the reporter's area as he watched NY1 cycle through results. Assemblyman Micah Kellner hurried through the crowd to touch him on the shoulder.
"Forty nine to 48. Amazing!" Kellner said, disappearing into the crowd again.
But eventually, the numbers started to change. Exit polls suggested a Bloomberg win, the Times and NBC called the race, and a one-point margin became three points, then four, and then five.
For the collection of Democratic elected officials at the Hilton, Thompson's loss was, of course, greeted with acceptance–teary eyes were rare or nonexistent–and with surprise that the race was indeed so close.
But underlying the concession was a theme of resentment against those Democrats who broke with the party to endorse the mayor. In the various speeches that most every elected official in the room was dragged onstage to make–Thompson took longer than expected to arrive to give his concession speech–many an official made sure to make mention, with contempt, of those Democrats who were not in attendance.
"There are too many Democrats today who should have stayed home," Governor Paterson said, referencing those Bloomberg supporters. "Democrats need to believe in the Democratic party."
State Senator Bill Perkins was a bit more blunt.
"We are Democrats, and those that betray us–we have to make sure that we don't forget," he said. "Democrats don't forget. … We have to pay back."
More than a half hour after elected officials began assembling on the stage to receive him, Thompson showed up in the ballroom, at 11:25, ready to give his concession speech. (Indeed he was prepared: Just off the stage, there were two laptops loaded with speeches to go into the teleprompters–one marked "concession," the other marked "victory," which began, "The pundits called me the underdog…")
His speech was not particularly moving or noteworthy, and it contained remarks typical of the conceding candidate (our work doesn't stop here, etc.). Thompson was treated as something of a bar band at times, as side conversations in the crowd grew to the point where he and others had to shush the crowd on multiple occasions.
The gist of his remarks: We tried hard, but it's a hard race to win.
"This campaign was about defying conventional wisdom," he said, "This campaign was about standing strong–standing strong and never backing down in the face of a formidable challenge."
While unexpectedly close, the loss hammered the point home for the city Democrats that despite outnumbering Republicans six to one, they inevitably fall short when trying to capture the mayor's seat. With four more years of Bloomberg, Democrats will have been out of the executive branch for 20 straight years by 2013.
Asked about the repeated failed efforts, Rep. Anthony Weiner, who dropped his mayoral bid earlier this year, blamed the circumstances of this election: unmatchable spending levels, and a mayor who knows how to fracture the Democratic party.
"Look, to some degree, Democrats need to look in the mirror. There are a lot of Democrats who voted to overturn term limits. There are a lot of Democrats who went and worked for and supported Republicans," he said. "I do think the Democratic Party in New York City–we have to do a better job, and I'd like to be involved in helping to get that party back together."
So what's in store for 2013?
"Tonight is about Bill Thompson," Weiner said. "I said when I dropped out that I did it for a couple reasons, and I think all of them have been redeemed."