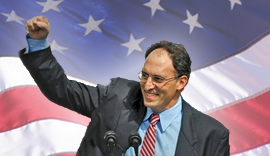 Michael Bloomberg is endorsing Alan Khazei to replace Ted Kennedy in the Senate.
Khazei is running in a tough, four-way Democratic primary and has already picked up the support of Maxwell Kennedy, RFK's son. He is not expected to win.
But as The Cape Cod Times wrote, Khazei "is one of the lesser known of four Democrats vying for the party's nomination." He has an impressive resume which includes a degree from Harvard, work experience with President Clinton and helping found City Year in Boston, a major volunteer organization. Khazei also has a sense of humor, challenging Stephen Colbert to moderate a debate.
For Bloomberg, it's his first endorsement since he won re-election as an Independent mayor here. It was thought that he would be able to lend his name and reputation for fiscal management and non-partisanship to boost candidates from either party and lend them the kind of credibility that a Citizens Union or NYPIRG seal of approval often conotate. Bloomberg, it should be noted, decided not to get involved in the New Jersey governor's race, which was won by challenger Christ Christie, a Republican.
In a statement to me from his spokesman, Bloomberg said, "Alan is someone I have worked closely with, he is an entrepreneur and an educational reformer. Massachusetts has big shoes to fill and and the country needs someone with a track record and bold specific ideas to move the country forward, and Alan is that guy."
Bloomberg will also host a fund-raiser next week in his town house for Khazei, according to the campaign.