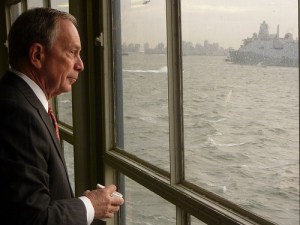 Michael Bloomberg, who is outspending opponent Bill Thompson $85 million to $6 million, said he doesn't need to win by a landslide tomorrow–he just wants to win.
Outside a bakery on Staten Island this morning, the mayor said, "Maybe a win's a win, but you'd always like to have more. But nobody is going to remember two days later how much you won by. You're only going to remember who the mayor is going to be for the next four years."
A new Quinnipiac poll shows Bloomberg leading Thompson by 12 points, but Bloomberg himself is only at 50 percent. That's down slightly from the October 26 poll which had Bloomberg at 53 percent.
Bloomberg, so far, has had a busy day and said he's not taking anything for granted. He took the 7:30 a.m. ferry to Staten Island and greeted voters there along with Borough President Jim Molinaro. Then the two visited a bakery on the Island where they shared coffee and Yankee-decorated corn muffins. (Molinaro paid). Outside, Bloomberg was confronted (politely) by a local resident who complained that the mayor's office has been unresponsive to his complaints about problems with the building he owns in Brooklyn. The mayor promised the man he'd look into it.
Then it was off to Fort Greene, where the mayor visited the Cake Man Raven, a small business owner who gave Bloomberg a signature chef coat and top hat. The two iced a cake (which sells for more than $75), and then he was out the door on a five-borough swing.