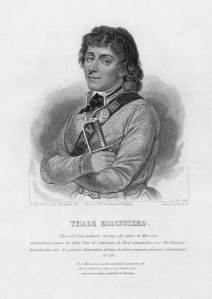 An African-American president has Americans reexamining the way they view their country and its history, and now, a new book leaves readers pondering why slavery did not end with the American Revolution.
General Thaddeus Kosciuszko urged the Founding Fathers to abolish slavery right after the revolution, and had they listened, the Civil War could have been avoided. Kosciuszko played a major role in the War of Independence with black men at his side, and when he learned that victory did not mean liberty for African slaves, he tried to buy their freedom with the money he earned as a soldier in the Continental Army.
The Peasant Prince: Thaddeus Kosciuszko and the Age of Revolution, by Pulitzer Prize–winning journalist Alex Storozynski, is the riveting story of an engineer whose military strategy led to the triumph at the pivotal Battle of Saratoga, and his forging of West Point as the impregnable fortress that Benedict Arnold tried to sell to the British. This engrossing biography offers new details on the roles of Africans, Jews, Native Americans, peasants and women during the revolutionary struggles of 18th-century America and Europe.
Kosciuszko grew up in the Polish-Lithuanian Commonwealth when Russian Czarina Catherine the Great was imposing her will on her neighbors, but fled Poland after a failed attempt to elope with the daughter of a vengeful land magnate, who was after his head.
The author uncovered an 1825 manuscript that details Kosciuszko's arrival in Philadelphia in 1776. There he met Benjamin Franklin, who quickly recognized his talents and put him in charge of designing the defenses for the new capital of the United States. After years of successful service in New York State that earned him praise from George Washington, Kosciuszko traveled to the Southern states with his black aide Agrippa Hull, or Grippy, who claimed his father was a prince from Africa.
Grippy helped Kosciuszko develop a network of black spies to follow British troop movements in the Carolinas. Slaves with code names such as "prince" and W, P and X snuck in and out of Kosciuszko's camp at Ashley Ferry, providing him with information about which Southern plantation owners were loyalists and which were allied with the American cause.
When the revolution ended, Kosciuszko sailed back to Europe thanks to Haym Salomon, a Polish Jew who helped finance the revolution from a stock market he had set up in a coffee shop in Philadelphia where he gave loans to the Founding Fathers and the Continental Army.
Like the French soldiers who brought the spirit of '76 back to Paris to spark the French Revolution, Kosciuszko returned to Warsaw, where he allied himself with Polish reformers that wrote the first written democratic constitution in Europe. The Polish Constitution provided a form of habeas corpus; codified religious freedom for Jews, Muslims and Protestants alongside Catholic Poles; and granted sanctuary for serfs escaping feudal slavery from other European monarchies. Thomas Paine was so impressed with the reforms in this constitution that he thought about applying for Polish citizenship.
But for the Russian Czarina, these freedoms were too much, and she orchestrated a war in which Poland was attacked from all sides, by Russia, Austria and Prussia. Kosciuszko tried to fight off the invasion with a multicultural army that included Polish peasants wielding scythes, Muslim Tartars, a Jewish cavalry and a even a black man from Haiti named Jean Lapierre. But alas, the Polish Revolution was ahead of its time and was crushed by the armies of neighboring monarchs.
After a stint in Russian prison, Kosciuszko returned to Philadelphia and befriended Thomas Jefferson, whom he urged to free his slaves. Kosciuszko wrote a last will and testament, setting aside his $17,000 American estate with Jefferson for the manumission of slaves. While Jefferson wrote that Kosciuszko was "as pure a son of liberty, as I have ever known," he reneged on using the Polish engineer's money to free slaves.
The praise for Kosciuszko during his lifetime was profuse. Miami Indian Chief Little Turtle presented him with a tomahawk and peace pipe. Jewish cavalry leader Berek Joselewicz called him "a messenger from God." Napoleon called him "the hero of the North." The poets Lord Byron and John Keats hailed him in prose. Yet most New Yorkers have only heard the name Kosciuszko because of the bridge on the Brooklyn Queens Expressway. With the publication of The Peasant Prince, that ought to change.
Just as Obama's presidency has Americans rethinking the history of our nation, the new details Mr. Storozynski has unearthed about the American Revolution should change the way Americans look at the birth of our nation.
As well as its current relationship with one of its staunchest allies—and oldest friends. More than two centuries after Kosciuszko's failed insurrection to free Poland from czarist domination, the Poles still struggle with overbearing Russian rulers. The Bush administration negotiated a deal with the government in Warsaw to place a missile defense system on Polish soil to protect Europe and the United States from a possible rocket attack from Iran. Moscow is demanding that President Obama rescind this agreement.
Kosciuszko would no doubt find it ironic that a black president holds the ultimate decision over a missile defense shield in Poland over the objections of a Russian ruler.