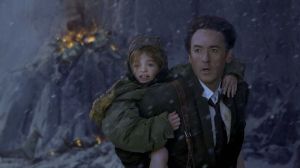 You probably didn't need a Mayan prophecy to realize that 2012 was going to be the big winner at the box office over the weekend, but even the most optimistic projections didn't see this coming. The $65 million three-day salvo for 2012 was not only the biggest since Harry Potter and the Half Blood-Prince opened back in July, but it also out-grossed the nine other films in the top-ten combined. On the flipside, the other wide release of the weekend, Richard Curtis' Pirate Radio, didn't even make it into that top-ten: the film known in the U.K. The Boat That Rocked (and already out on DVD there) finished in eleventh, with just $2.8 million. As we do each Monday, here's a breakdown of the top five at the box office.
1. 2012: $65 million ($65 million total)
The massive destruction in 2012 wasn't just limited to California falling into the Pacific (hey, you knew that was going to happen eventually, right?), and obviously the massive box office wasn't just limited to North America, either. Internationally, Roland Emmerich's disaster porn epic grossed $160 million, for a worldwide total of $225 million. If that sounds like a lot, that's because it really is: 2012 is the proud owner of the fifth highest international debut ever, and the highest ever for a non-sequel. With a deal that reportedly earns him 25 percent of the total gross, we're guessing Mr. Emmerich might be in the market for a bigger house… though maybe not on the California coast.
2. A Christmas Carol: $22.3 million ($63.2 million total)
Remember last week, when everyone was calling A Christmas Carol a disappointment? Yeah, forget about that. Down just 26 percent, the Robert Zemeckis film pushed its total past $63 million and is well on pace to crack $100 million by the end of Thanksgiving weekend. Right now, A Christmas Carol is running about 15 percent behind Elf—which opened on the same weekend six years ago and went on to gross $173 million—meaning it could wind up with at least $140 million domestically by the time Santa Claus comes to town. Some disappointment, huh?
3. The Men Who Stare at Goats: $6.2 million ($23.3 million total)
Speaking of Christmas, let's hope the guys and gals in the marketing department at Overture get a little extra in their stockings this year. After making a modest hit out of the totally uninteresting Law Abiding Citizen (the Jamie Foxx/Gerard Butler film broke $67 million this weekend), the studio is doing something similar with the critically reviled The Men Who Stare at Goats. With $23 million in the bank thus far, Goats has an outside shot at topping $50 million, a mark that, frankly, didn't seem possible before its release.
4. Precious: Based on the Novel Push by Sapphire: $6.1 million ($8.9 million total)
Say hello to Slumdog Millionaire, 2009 edition. Precious pushed into the top-five over the weekend by averaging $35,000 per showing on just 174 screens. Expand that out to next weekend, when the film hits 600 theaters, and Precious could be on track for $20 million or more and well on its way to $100 million overall. At this rate, be prepared to start hearing words like "phenomenon" and "sensation" used in conjunction with Lee Daniels' indie very shortly.
5. Michael Jackson's This Is It: $5.1 million ($68.2 million total)
Down 61 percent and scheduled to leave theaters after Thanksgiving, the end of the road for This Is It is fast approaching. Still, the Michael Jackson concert film added another $11 million overseas this weekend, meaning it has now grossed $222.6 million worldwide. Deemed a bust far too soon by some uninformed Internet hysterics, This Is It has proved itself to be a winner after all thanks to some heady international receipts. The moral: don't listen to Nikki Finke.