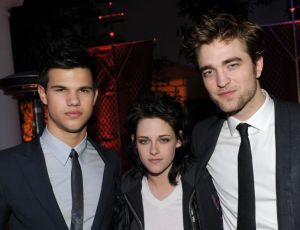 And you thought only fanboys could help set box office records. Thanks to an audience that was comprised of 80 percent women, The Twilight Saga: New Moon sunk its teeth into a ridiculous and record-setting $140.7 million to pace the field during what was the second most lucrative weekend in Hollywood history. The opening for New Moon ranks third all-time behind only Spider-man 3 ($151.1 million) and The Dark Knight ($158.3 million), but those two films had the added benefit of opening during the summertime, not the third weekend in November. New Moon is further proof that sometimes Hollywood should remember not all blockbusters have to appeal to 13-year-old boys. As we do each Monday, here's a breakdown of the top five at the box office.
1. The Twilight Saga: New Moon: $140.7 million ($140.7 million total)
You might want to take a deep breath. Not only did the opening of New Moon double the $69 million opening of Twilight, it grossed more than its predecessor's first weekend in just one day; New Moon set a record for single day grosses with $72.7 million on Friday, including an also-record $26.3 million from midnight showings. Phew! Internationally, the numbers were just as impressive with New Moon pulling down $118 million, meaning the sequel grossed $258.7 million worldwide. Of course, the naysayers will note that New Moon had one of the largest Friday-to-Saturday drops in history, but that seems like idle nitpicking. Even if it crumbles next weekend—and with Thanksgiving looming, don't expect too much of a fall off—New Moon is poised to be one of the biggest hits of the year. Scary thought: imagine what The Twilight Saga: Eclipse is going to do when it opens in June of 2010.
2. The Blind Side: $34.5 million ($34.5 million total)
Lost in the hysteria of New Moon was that The Blind Side gave Sandra Bullock the biggest debut of her illustrious career. With $34.5 million, the football drama surpassed the $33.6 million that The Proposal started with in June, even though most "experts" pegged The Blind Side to gross in the low-20s. Even more impressive was that audiences loved the film—The Blind Side got a rare A+ grade on Cinemascore—something that bodes well for the coming weeks. Julia Roberts and Reese Witherspoon have their work cut out for themselves if they plan on grabbing the title of America's Sweetheart back from Ms. Bullock any time soon.
3. 2012: $26.5 million ($108.2 million total)
Down a not-surprising 59 percent, 2012 fell into third place, but still crossed the $100 million barrier in just 10 days of release. While the domestic box office for Roland Emmerich's latest will probably wind up close to The Day After Tomorrow's $186.7 million, what really counts is the worldwide numbers. 2012 added another $100.5 million from overseas territories, meaning it has now grossed an astonishing $449.3 million worldwide. Apparently, watching the world end is truly universal.
4. Planet 51: $12.6 million ($12.6 million total)
Say hello to the definition of a kids' movie: parents and their children accounted for 86 percent of the $12.6 million gross for Planet 51. Now we don't feel so bad for never having heard of this thing!
5. A Christmas Carol: $12.3 million ($79.8 million total)
After dropping a scant 26 percent last weekend, A Christmas Carol nose-dived 49 percent in its third weekend and barely held onto to a spot in the top-five thanks to a furious push from Precious: Based on the Novel Push by Sapphire ($11 million/$21 million total). While we're still optimistic about the future for A Christmas Carol—after all, it's one of the only Christmas-themed films of the season—this type of drop lends credence to those who thought it was a bust after grossing $30 million during its opening weekend.