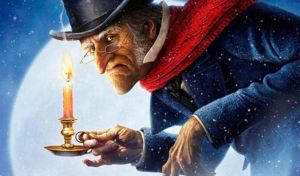 Christmas came early at the box office this weekend as A Christmas Carol bah humbugged its way to $31 million in ticket sales and a first place finish, ahead of newcomers The Men Who Stare at Goats ($13.3 million in second) and The Fourth Kind ($12.5 million in fourth). The big story, though, was the limited release debut of Precious: Based on the Novel 'Push' by Sapphire. The much-discussed indie exploded on the scene grossing $1.8 million from just 18 theaters in New York, Los Angeles, Chicago and Atlanta. For those of you who weren't math majors, that breaks down to an insane $100,000 per theater, meaning Precious is in the rarified air that other future Oscar frontrunners like Brokeback Mountain and American Beauty occupied. Lionsgate plans on taking the Lee Daniels film wide on November 20, meaning the only problem now could be that Precious peaks too soon. That's a story for another day, however. As we do each Monday, here's a breakdown of the top five at the box office.
1. A Christmas Carol: $31 million ($31 million total)
Much like what happened with This Is It last weekend, there is a faction of people (read: Nikki Finke) who want to call A Christmas Carol disappointing. And to that, we say: huh? The Disney film had the fourth highest opening for a Christmas film in box office history, behind only The Grinch Who Stole Christmas ($55 million), Elf ($31.1 million) and Four Christmases ($31.07 million). And of those four, only Elf opened this early in the season—if you can even cal the first full weekend in November "the season." Elf went on to gross $173 million total, so if A Christmas Carol can follow suit—and frankly, with the added benefit of IMAX theaters, there is no reason it can't; the next big IMAX movie to hit theaters is Avatar in December—under no metric could it be considered a disappointment. Perhaps Ms. Finke should revise her history before its too late.
2. Michael Jackson's This Is It: $14 million ($57.8 million total)
The aforementioned This Is It dropped a slim 39 percent from last weekend, pushing its total to nearly $60 million domestically and putting it on course to become the highest grossing concert film ever here in America (see you never, Miley Cyrus!). Internationally, the film already has that title with $128.6 million in total grosses. That means this "disappointment" has grossed $186.4 million worldwide in just 12 days. What a disaster!
3. The Men Who Stare at Goats: $13.3 million ($13.3 million total)
A funny thing about George Clooney: he isn't the box office superstar you might think. If you take away his event pictures (the Ocean's series, A Perfect Storm and Batman and Robin), the average wide release opening (2,000 screens or more) for a George Clooney film is around $12 million. With that in mind, $13.3 million for an R-rated military comedy with little buzz—seriously, do you know anyone who wanted to see this?—seems like a pretty big win for both Mr. Clooney and Overture Films.
4. The Fourth Kind: $12.5 million ($12.5 million total)
We have to wonder: if Universal had opened The Fourth Kind two weeks ago would this alien abduction scare fest have scored a bigger debut? The film had to fight not only another weekend Paranormal Activity, but also newcomer The Box (Richard Kelly's parlay for mainstream recognition landed in sixth place with just $7.8 million) for the horror fans hard-earned dollar. We'd venture to say that decision cost Universal at east $5 million if not more. Lest we forget that in the right vehicle—that is: something genre, something scary—Milla Jovovich is usually good for a high-teens opening gross.
5. Paranormal Activity: $8.6 million ($97.4 million total)
Weekend seven of the smash hit of the fall brought Paranormal Activity ever closer to pushing past the $100 million plateau. We hope you're sitting down: even if it peters out at $120 million (likely since this weekend saw a 47 percent drop), Paranormal Activity will wind up grossing 8,000 times its reported $15,000 budget. Not even Nikki Finke could spin that as a disappointment.