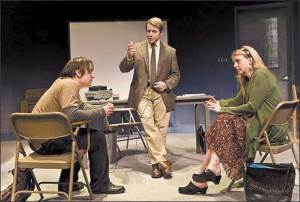 The good news is that Matthew Broderick remembers his lines in The Starry Messenger. (Early in previews, he didn't and required a prompter, a crutch producers attributed to late rewrites and which, somehow, merited a front-page Times story.) The bad news is that there's about two hours and 50 minutes of those lines to remember. This interminable and dull new play by Kenneth Lonergan, who also directed, opened Monday night at Theatre Row and is focused on Broderick's Mark Williams, a dejected, defeated middle-aged astronomy instructor who once dreamed of the stars but now toils in a basement.
Mr. Broderick has made a late career of playing dejected losers—in The Producers, in Election—but here he's downtrodden to the point of catatonic, dull and affectless even when he begins an affair with a young single mother. It may be a convincing portrayal of anomie, but anomie is boring.
There are four interlocking stories, and at least one—involving the single mother's job as a nurse and the cancer patient with whom she develops a friendship—could be cut entirely. And, for some reason, there's an elegy, delivered by Mr. Broderick, to the old Hayden Planetarium, closed in 1997 and replaced by a new, glass-enclosed one. But there are also some interesting scenes and funny lines, especially involving an odd but enthusiastic young astronomy-class student, played by Kieran Culkin.
Someplace inside this three hours of sprawl lurks a interesting 90-minute one-act.
GIRL CRAZY, WHICH PLAYED LAST WEEKEND in the City Center Encores series, could be the perfect Encores show. It's a light, silly, ridiculous comedy—with a gorgeous score of memorable Gershwin tunes. No one needs to see it revived, but, especially as played by the 28-piece Encores orchestra, it's an intensely pleasurable concert performance.
The Green Acres–ish plot, by Guy Bolton and Jack McGowan and adapted for Encores by David Ives, concerns millionaire New York playboy Danny Churchill, sent to the cow town of Custerville, Arizona, by his father, who is attempting to cure his son of his girl-craziness. There, he opens "Danny's Broadway Dude Ranch," falls in love with a local girl, confronts some hijinks—an ill-fated trip to Mexico, foiled murder plots, various misunderstandings and the election of Gieber Goldfarb, the cab driver who brought Danny to Arizona, as Custerville's sheriff—and finally goes native and gets the girl.
And here are some of the songs in Girl Crazy: "Embraceable You," "I Got Rhythm," "But Not From Me," "Bidin' My Time." The 1930 original production included Ginger Rogers and made a star of Ethel Merman; here the leads were the relatively unknown Chris Diamantopoulos and Becki Newton, who play their parts competently and sing them beautifully. Saturday Night Live alum Ana Gasteyer displayed the expected comic timing and unexpectedly powerful pipes as the showgirl Frisco Kate. Wayne Knight was game and amusing as Goldfarb, even if he couldn't quite sing.
It was a gratifyingly simple staging of a simple show, and the orchestra sounded great. Who could ask for anything more?
IF THEY GAVE A TONY AWARD FOR EXCESSIVE amplification, the Dreamgirls revival that opened at the Apollo Theater Sunday night would surely win. This is a beloved, crowd-pleasing musical—the story of an African-American girl group and the sacrifices, personal and artistic, its members must make to become stars in the 1960s and '70s. This production works hard to ensure you're pleased, blasting everything at the audience with full force.
But of course, this Dreamgirls won't win that imagined Tony for amplification, nor any other. It's not a Broadway show; it's a touring production, making a five-week stop at the Apollo to kick off a national tour. It's a fun night of theater, but it never lets up. The William Ivey Long costumes are lush, elegant and shimmering; the wigs (by Paul Huntley) are slick and constantly changing. The performances are big, the singing is often in the American Idol style and the microphones are always turned up loud.
It's directed and choreographed by Robert Longbottom, who inflicted Bye Bye Birdie upon us earlier this season. His Birdie only worked in its big production numbers; here, in a show that never slows down, his hand is surer. The choreography is sharp, slick and evocative of Motown's heyday; the few book scenes move quickly. The girls sing well and act adequately. The boys are less impressive, with the exception of Chester Gregory, who steals his scenes as Jimmy Early, the James Brown–style star who's neutered into a Perry Como–alike in order to achieve mainstream success.
And the star is newcomer Moya Angela, who plays Effie and presumably comes close to knowing why the caged bird sings. She delivers a rousing, showstopping "And I Am Telling You I'm Not Going." It would only be more effective if the microphones rendered it less
ear-splitting.
HORTON FOOTE, WHO DIED IN MARCH AT 92 years old, wrote more than 60 plays, including The Young Man From Atlanta, which won the Pulitzer Prize in 1995, and Dividing the Estate, which had a relatively brief Broadway run last season. This year, the Signature Theatre Company, which devotes each season to a single playwright, is presenting Foote's final work, The Orphans' Home Cycle, a nine-play series commissioned for the Hartford Stage. The nine plays run in three parts, and the first part, The Story of a Childhood, which includes "Roots in a Parched Ground," "Convicts" and "Lily Dale," opened at the Peter Norton Space last week.
We're in usual Horton Foote territory, and not just because his daughter, Hallie Footie, is, per usual, starring. The plays are about change in small-town Texas, and it's heavy stuff. (None of Dividing the Estate's comedy here, not at all.) In the first part, young Horace Robedaux loses his father and is abandoned by his mother; in the second part, he's 10 years old and serving as an apprentice to a drunken plantation owner; and in the third, he visits his mother and sister in Houston, only to be rejected by them.
They're sad stories, apparently based on the life of Foote's father, and they're played effectively. But I couldn't help being reminded of the conventions of the '50s soap opera, where a single plot development was drawn out and repeated, so a housewife briefly distracted by a telephone call or a load of laundry would still never miss a plot development: These three hourlong acts felt to me like three very extended scenes.