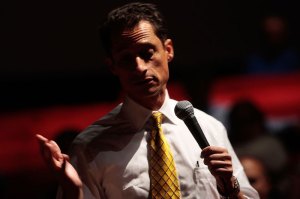 Anthony Weiner is absolutely right when he says, as he did in Wednesday's New York Times, that Mayor Bloomberg and his re-election team were scared of him.
But Weiner is forgetting another perfectly valid point: He was scared of them, too. And he blinked.
It's no accident that he's not talking about this aspect of his decision-making process. The Brooklyn congressman, who nearly took Fernando Ferrer to a run-off in the 2005 Democratic mayoral race, wants to be his party's 2013 nominee. But the early stages of that effort are being complicated by the unexpectedly narrow margin of last week's election.
Had Bloomberg won the lopsided re-election victory that everyone expected, it would have largely affirmed Weiner's decision not to run this year, with most Democrats concluding that the mayor was simply unbeatable in 2009. But the closeness of the final tally (4.6 points) coupled with the widely held view that Bill Thompson was a deficient candidate who ran a deeply flawed campaign has taken away Weiner's excuse.
Realizing how close they came to taking out the billionaire incumbent, more than a few Democrats undoubtedly now agree with the White House aide who said after the election that Weiner should have "manned up" and taken on Bloomberg.
All of this leaves Weiner roughly where George H.W. Bush famously was on the eve of his 1988 presidential campaign: fighting the wimp factor. Which is why he's now peddling his own alternate version of recent history, crafting a self-flattering narrative that has Weiner eager to go toe-to-toe with Bloomberg but forced (reluctantly) to take a pass because of the congressional debate over health care.
"If I had sat here in D.C., not gotten much done or moved the ball on what I said I would, maybe I would say my time was better spent becoming mayor," Weiner said in Wednesday's Times story.
Instead of campaigning for mayor, the Times' Michael Barbaro wrote, "Mr. Weiner plunged himself into the negotiations over sweeping health care legislation, becoming a ubiquitous champion of the public insurance option. He delivered colorful, at times scolding speeches before his colleagues, set up an explosive debate between himself and the Clinton health-care slayer Betsy McCaughey, and became a fixture on the cable news circuit."
Well, yes and no. Weiner has been a "ubiquitous champion" of the public option – more visible (nationally and locally) on this issue than on anything else Congress has taken up since he won his seat in 1998. But he absolutely wasn't a key player in the negotiations that produced the bill that cleared the House last Saturday and he hasn't been – within the House – a meaningful figure on health care at all.
What he has been doing – extremely well – is grandstanding. Leaving the negotiating, compromising and deal-making to others, Weiner staked out a provocative position this summer, arguing not just for the public option, but for a single-payer, Canadian-style health care system. His arguments were compelling, but they were academic: Single-payer was never on the House's agenda.
This made Weiner attractive to national cable television producers. Instead of speaking incomprehensibly about the vagaries and nuances of whatever the proposed compromise du jour was, Weiner was willing to come on and make an impassioned, television-friendly argument for a Big Idea.
His target audience wasn't his fellow members of Congress: it was liberal, grassroots Democrats – a fair number of whom live in Manhattan and brownstone Brooklyn. To these voters, Weiner had been a Koch-ish outerborough congressman, not a progressive true-believer.
These same voters watch the cable shows that Weiner began popping up on this summer – and from which he'd largely been absent in his first 11 years in the House. What a perfect way to get them to give him a second look – without jeopardizing his outer-borough base.
That had surely occurred to Weiner as a thrust himself into the health care debate. And give him credit: It was a shrewd play that won him exactly the kind of media attention he was seeking.
But cable television can be misleading. The elected officials who make the best guests – articulate, energetic, bomb-throwers – often have little actual impact on shaping policy. Weiner is no exception. In the health care debate, he looked a lot more involved on the outside than he actually was on the inside.
Perception can count for just about everything in politics. And with voters, and even some of the press, ready to believe that he's been the Chuck Schumer of the House when it comes to health care, Weiner will have a much easier time pushing his Why-I-really-didn't-run-for-mayor narrative. Even if, in truth, the simplest explanation-that he thought he'd lose-is the right one.