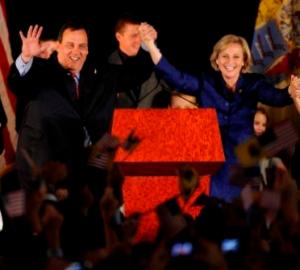 With 99% of the votes reported, Republican Christopher Christie's lead in the race for governor is now at 99,730 a 49%-45% margin over the incumbent Democrat, Jon Corzine. Independent Christopher Daggett finished at 6%, with 132,919 votes. These numbers will change as unreported precincts and absentee ballots are added to the tallies.
Republicans picked up one seat in the State Assembly: in district 4, Domenick DiCicco won an open seat that the Democrats have held since 2003. The GOP came close to ousting incumbents in districts 3 and 22.
Statewide, Republicans picked up eight Freeholder seats, including control in Monmouth County. And the GOP won three hotly contested races for County Clerk, including a pickup in Passaic. A Republican victory in the Parsippany mayoral race was tempered by a loss of a GOP mayor in Gloucester Township.