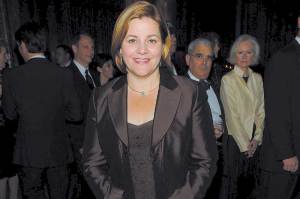 For City Council Speaker Christine Quinn, things are probably going to be less fun now.
The mayor whose wagon she hitched her fortunes to spent $100 million to win reelection by less than 5 points against a member of her own party whom she endorsed late and with undisguised indifference. Four incumbent council members she backed were ousted in primaries by labor-backed candidates who don't owe her anything, except maybe payback. And with increasingly difficult choices to be made about how to allot a shrinking amount of public resources, Ms. Quinn will increasingly be placed in no-win situations pitting one instituational ally against another.
For example, two sources of Ms. Quinn's strength—organized labor and the city's business leaders—are in a heated fight over legislation to require businesses to provide paid sick days to workers. (Ms. Quinn said he hasn't taken a position yet, but says she is meeting with supporters and opponents personally.)
"The city's business community does not perceive Christine Quinn as being in the pocket of Mayor Bloomberg but rather as a forceful and independent politician with whom they deal on her own terms," said Kathy Wylde, president and CEO of the Partnership for New York City. "She can't just continue to stay in the shadow of the Mayor, whose efforts attract more public attention. This will be the time when she cuts her own deals and makes her own way, because she's the only one who can manage issues like paid leave in the Council."
Ms. Wylde said Ms. Quinn has established her reputation and credibility with the business community by quietly steering a course down the middle and working with Mayor Bloomberg. The question is whether Ms. Quinn "can now steer a course that makes her independence of Bloomberg obvious to the public."
Inside her City Hall office, Ms. Quinn was as close to a picture of calm as a 43-year-old acknowledged micromanager can get. She was nursing a large Dunkin Donuts coffee and wearing no makeup. She said that her ears were still ringing from a Bruce Springsteen concert she'd gone to the night before.
Nothing about her will change, she said, and she didn't feel as if her speakership was in any particular danger (notwithstanding a spirited declaration of intent by former Black Panther Charles Barron).
"Look, people have been talking about challengers for quite some time," she said. "I see no challenger. You keep talking and talking when you don't have anything. If people have something, they put it up. People are just talking. Talk is cheap."
She said that the lesson from last week's election was simple, and not particularly troubling to her. "People are extremely worried and concerned about the kind of overall state of affairs," she said.
She was unapologetic about her closeness to Mr. Bloomberg, and dismissed the idea of reassessing the benefits of the partnership with the mayor now.
"Beneficial to whom?" she asked, her voice echoing in her office. "Beneficial to what? I mean, my job is to get things done that will make New Yorkers' lives better and easier. So the only cost-benefit analysis for me is what helps me and my colleagues implement policies, pass legislation, pass budgets that make people's lives better. That's what I have to do."
"Go back in time," she said. "Early on in Gifford [Miller]'s term as speaker, the mayor proposed closing firehouses. There were lots of rallies, there were arrests, there was screaming, there was yelling. And fire. Houses. Closed," she said.
(She noted, quickly, that a similar proposal to close firehouses under her watch was blocked.)
She said she would accept the perspective that comes with the "fresh eyes" that the new members will bring to the Council. "God knows we are at a time when we will take every new solution that we can get," she said.
Two of her former colleagues, Bill de Blasio and John Liu, have now won election to citywide office as public advocate and comptroller, respectively, and both promise to take a more aggressive posture toward the Bloomberg administration than that of their predecessors in either office, or, for that matter, Ms. Quinn. She sees this as an opportunity.
Talking about the newly granted power of comptroller-elect John Liu to audit the city's Department of Education, for example, she said, "I have suggestions for audits I want him to do. One of the challenging things to do is figuring out where there is money. I'm not saying that it's wasted, nothing like that—but it's maybe good but not great—not critical. Our job now is to find everything that isn't critical, that is good but isn't great. I think everyone accepts, even the Department of Education, that their budget isn't as transparent as other city agencies'. So being able to have a comptroller assist us in sussing out what isn't life or death in the lives of schoolteachers and children is going to be very helpful."
On a number of levels, maybe.