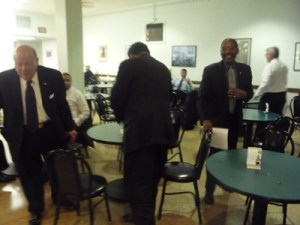 ALBANY—Even by the glacial standards of Albany, this is slow.
The State Senate gaveled in sometime after 2 p.m., its only business to observe a moment of silence–led by Senator William Larkin, a Hudson Valley Republican–in honor of four police officers killed in Washington. There were fewer than 30 senators in the chamber when that happened.
Conference leader John Sampson met with Assembly Speaker Sheldon Silver earlier today. Both men are now at the governor's mansion meeting with David Paterson. Legislators are not even bothering to look busy anymore. I found three of the four amigos–Hiram Monserrate, Ruben Diaz Sr. and Carl Kruger–sitting around a table in the Capitol cafeteria.
"There's more than adequate common ground where we could have closed this down two weeks ago," Kruger said.
"It's a game," Diaz said.