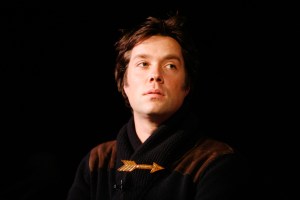 Opening night at New York City Opera felt like New York City Opera can sometimes feel: like the Metropolitan Opera, but scrunched up. Rather than unfolding majestically along Lincoln Center like the Met's, City Opera's red carpet was crammed into the lobby. Then, when the gala ended, those who hadn't been invited to the post-concert dinner had to squeeze past tables crammed with flowers, candles, and salads before emerging into the cold November night.
One person who did have a seat at the dinner was Rufus Wainwright, who performed "That's Entertainment" at the concert. Silvery-voiced soprano Amy Burton also sang "Les feux d'artifice t'appellant," the final aria from Prima Donna, Mr. Wainwright's first opera, which had its world premiere this summer in Manchester but doesn't yet have a home in New York. Or does it?
"It's a big hint," Mr. Wainwright said, that City Opera put the aria on the program. "I can't say anything for sure, but the fact that they're doing a big chunk of it bodes well."
Mr. Wainwright was still angry about Maine's anti-gay-marriage vote from Tuesday. "I did a show in Maine about a month ago," he said, "and I prefaced a song urging people to go out and fight for that. And it's so sad, it's just really backwards. But hey, whatever. One step backward, two steps forward."
Mr. Wainwright knows about steps backwards and forward. He's probably still smarting from the Met's decision to drop Prima Donna, which it commissioned in 2006, because Mr. Wainwright refused to translate the libretto from French to English.
When we asked him to play fill-in-the-blanks with Lincoln Center's two opera companies, he declared without hesitation,"The Met is then, City Opera is now."
Representing the other side of the political spectrum was David H. Koch, whose wife, Julia, was dressed in a billowing coppery dress by her friend Carolina Herrera. Mr. Koch pledged $100 million to City Opera and ended up with a David H. Koch—formerly New York State—Theater. He still thinks it's strange to have his name on a building.
"It's been on there for about six, eight months," he told The Observer, "and I still do a double take and pinch myself: Is that really me up there? Is that my name? I'm still in a state of disbelief."
In addition to the City Opera gift and a slew of other philanthropic activities, Mr. Koch founded Americans for Prosperity, the super-conservative political group that helped orchestrate those anti-Obama "tea parties." Even he is a little torn between his love of small government and his recognition of the importance of government funding of the arts. (For one thing, New York City has given $27 million to City Opera's capital campaign.)
"I have mixed feelings [about public arts funding]," Mr. Koch said. "Of course the money is very welcome, and it helps the performing arts spend more money and do more things. But I tend to think that should be supported by private contributions rather than taxpayers' money."
Tinsley Mortimer swept through, trailed by the cameras recording her every move for a reality series based on her life. Meanwhile, fancy-beverage socialite Luziah Ismail-Hennessy, who wore Galliano and chaired the post-concert auction, ran down the luxurious lots for us.
"We start with tennis," she said, "the finals at Roland Garros. We have something for the sportsman: Shooting in Germany. And fishing in Africa. We have the great vineyards. A personal trip to Jordan. And a visit to Nureyev's island and a stay in the house of Zeffirelli."
By the way, that shooting trip requires a valid German hunting license, so maybe even sportsmen will settle for the center court box at the French Open.
zwoolfe@observer.com