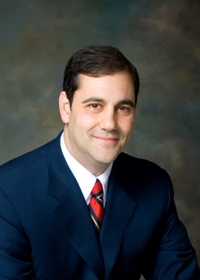 ALBANY—There's a computer shortage in the State Senate because federal investigators seized over 100 terminals in connection with their investigation of former Majority Leader Joe Bruno, whose trial is now underway.
"Due to the allegations against former majority leader Joe Bruno, the feds confiscated a number of Senate computers, which left the senate short in the number of available computers it had for staff and office use," said Austin Shafran, a spokesman for the Democratic majority in the chamber. "The Secretary's office had to do a re-evaluation of the computers based on full-time office staff and part-time office staff, and the amount of use each computer was getting."
Shafran said this occurred "across the board" to both Democrats and Republicans, and has been going on for months. I heard about it yesterday when I noticed State Senator Andrew Lanza, a Staten Island Republican, in a pointed discussion with Angelo Aponte, the Democrat-appointed secretary.
"This is the 21st Century, it's a constituent services office, this is how you communicate with constituents," I heard Lanza gripe. "You had two staffers drive 173 miles to take a computer?"
Eventually, Senators Diane Savino and Jeff Klein came over and diffused the discussion. Lanza was visibly peaved.
Shafran said Lanza's staffers had volunteered the computer for re-application. Lanza didn't return a call seeking comment.
Shafran said federal authorities are slowly returning the computers. "This is a case of the right hand not knowing what he far right hand is up to," he said.
UPDATE: Lanza called me to say that "Shafran is a liar."
"We didn't volunteer anything, and I think it points to the lack of leadership there," Lanza fumed. "They can't get a bill on the floor, and what they have decided to do is send their staff people 140 miles at a cost to the state to take a computer out of an office that's probably worth $50."
"At the end of the day, I'll be buying computers with my campaign money to fill in the gap. But I think it demonstrates the complete lack of priorities, and the viciousness and the partisanship that is more than usually out of place," he said.
UPDATE 2: Shafran called back: "So he's going to be buying a computer with his campaign account. I think that's odd, because the computers are coming back, but that's his business. Does it mean that they can be used for a non-government purpose, though? Is he looking for a Joe Bruno-esque loop hole?"
UPDATE 3: Lanza called me to complain about Shafran's charge, and the two then spoke. Shafran called to "clarify" his statement; he did not mean to imply that Lanza was doing or planning to do anything improper.