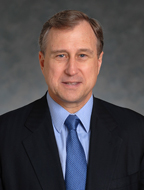 ALBANY—Ed Cox is all about Westchester County, and Rob Astorino's upset ouster of County Executive Andy Spano.
"If we can win Westchester, that is almost as big a win as the wins which I expected to happen, and which did happen, in New Jersey and Virginia," Cox told me during a phone interview Wednesday afternoon, noting the suburban county has a two-to-one Democratic enrollment advantage.
"That win by Rob Astorino was a huge message to potential Republican candidates here in New York State–whether you're running for an assembly office or a senate office, or a statewide office or a very local office–the Republican Party is going to be doing very good not just now but in the future."
In addition to Astorino–for whom Cox noted he campaigned–Republicans made gains in Erie, Dutchess and Nassau counties as well as holding ground in Rockland County. The only blip in the victory narrative–and it was a massive one–was Doug Hoffman's special election loss to Bill Owens in the race to replace John McHugh, a Republican, in Congress.
Cox said did an interesting dance on this in our conversation: he told me that he felt his party's legal nominee, Assemblywoman Dede Scozzafava, "would have won that district overwhelmingly if it had been a race between her and Mr. Owens." Her candidacy collapsed under pressure from conservatives.
But it was a three-way race, with Doug Hoffman on the Conservative Party line, she didn't stand a chance, and Cox barely lifted a finger to help her. When Scozzafava dropped out, Cox endorsed Hoffman. He said Hoffman lost because it's "not your traditional Republican rural kind of county," and that more of a cross-base appeal, like Scozzafava could have provided, was needed.
"He was a fiscal conservative, but Bill Owens also defined himself as a fiscal conservative. In that close race, Bill Owens, he not only secured his base, the Democratic base, but he also reached over into the Republican issues and identified himself as a fiscal conservative," Cox explained. "The lesson from the 23rd district is going to be: fiscal conservatism wins."
"And he [Hoffman] fought back by saying he was a fiscal conservative, and he convinced enough. This is a swing county, this is not a Republican county. There is a very strong labor component up there, there is a strong environmental component, there's a strong higher education component," Cox continued. I asked him then if, given this read and a belief that Scozzafava could have won, if he was not putting egg on his face for not supporting her more aggressively.
"No, you asked me if she could have won it," he replied. "And she could, given the fact that she in many ways was a fiscal conservative, she was for continuing the Bush tax cuts, she voted against the last Democratic budget, she signed the tax pledge, and she was a floor leader for the conservative Republican caucus in the Assembly."
"She reached across into the independent and Democratic side," Cox said. "She knew the issues up there very well, by the way, like the St. Lawrence Seaway and the road going across the northern part of the district."
And then, he reiterated, she betrayed the party by endorsing Owens, a move that coupled with labor support is believed by most analysts to have won him the election.
I asked Cox what this race would mean for his relationship with the Conservative Party. On Election Night, Chairman Mike Long told Liz and me that "the Republican Party lost the seat by picking and allowing and funding a candidate that wasn't really even in any way, shape, or form respectful of Republican policies and principles."
"I submit to you that we're not spoilers. Hoffman had the right message," Long said. "Look at the numbers. Add together what the Republican line got and what the Conservative line got and guess what? We would have definitely held this seat in the Republican column."
Here's Cox's take:
"Look, I know that Mike Long does not want to be a spoiler," Cox said. "He proved that with the Westchester race, where he stepped in and repudiated his local conservative leader and repudiated the corrupt deal that that leader had made with Andy Spano. Mike Long said in Westchester: I want all people that vote conservative to vote for Rob Astorino. Don't vote on the Conservative line for Andy Spano. He didn't want the Conservative candidate to, in fact, to get the vote of Conservatives."
"I think what happened in Westchester is more the paradigm of what's going to happen going forward between the Republican Party and the Conservative Party. I know Mike Long does not want to be a spoiler. I know he wants to do what's right for the people of the state of New York, and enact the fiscal policies we need," he said.
Of course, others disagree with Cox's fiscal supremacy theory; Bruce Gyory, a political consultant said it was a "anti-incumbent rip tide" that took down Spano and caused a squeaker for Tom Suozzi. Cox, predictably, is going to bask in his victories while he can.
"This election is really the start, and this is one of the reasons that I wanted to be the chairman of my party in New York State," Cox said. "This is the start of a large movement, and it shows what's really happening and what can be done."