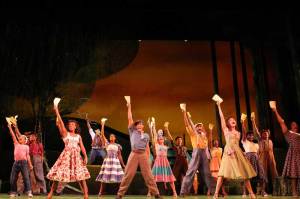 The Finian's Rainbow that opened last week at the St. James Theatre is delightful, a good-hearted, high-energy romp with big laughs, beloved songs and some excellent performances. It is also perplexing, a nonsensical and sometimes tedious story that leaves the audience scratching their heads. (An hour and change after leaving the theater, I received an exasperated text message from a still-flummoxed friend who'd been there, too: "That musical made zero sense.") It's impossible to dislike this Finian's Rainbow, but it's also impossible to love it.
No matter how competent the production (and this is a very competent production, originating with a well-reviewed City Center Encores run in the spring), and no matter how lovely the Burton Lane-Yip Harburg music (and it's very lovely, with memorable and cheerful songs including "Old Devil Moon," "How Are Things in Glocca Morra" and "Follow the Rainbow"), you just can't get past the crazy story.
The tale is set in motion by Finian McLonergan, a fast-talking dreamer who arrives from Glocca Morra, Ireland, in Rainbow Valley, Missitucky, a fictional spot in the American South located somewhere near Fort Knox, with both his devoted daughter, Sharon, a lovely Irish lass, and a pot of Irish gold, perhaps lovelier. (The book is by Harburg and Fred Saidy, adapted for Encores by David Ives and for this production by Arthur Perlman.) The gold was stolen from a leprechaun—Finian insists he's merely borrowing it—and our hero is convinced that if he buries it in the magical American soil, it will multiply and make him rich. Og, the leprechaun, is in Rainbow Valley, too, determined to reclaim his gold before he turns human, a process that has already begun.
There's the hunky landowner, Woody Mahoney, back from the merchant marine to save his farm, and his mute sister, Susan, who communicates not by "talk-talk" but by "foot-talk," which you and I might call ballet dancing. There's an interracial gang of happy sharecroppers on the Mahoneys' land, who work and sing and dance and live lives of integrated and joyous sharecropping. And, perhaps most famously, there's also a racist Southern senator who has magically turned black.
That transformation had been thought to be the show's biggest flaw—that the race reversal would be hopelessly retrograde in modern, non-racist society. Previous productions used blackface for the transformation, but as handled at the St. James, it is effectively inoffensive—here the burly white actor is simply replaced by a burly black one. And once Og casts a spell to cure the senator of his bigotry, and once he joins a black gospel quartet (conveniently, three members of a temporarily understaffed group have wandered past), he's happier as a black man than he was as a white one.
There's a subplot in which the people of Rainbow Valley, for some reason having to do, I think, with the presence of gold there, are extended credit, which they use to go on a shopping spree, which brings to town Mr. Sears and Mr. Robust to collect what they're owed. (A Sears Roebuck joke! Ha!) There's a subplot involving charges of witchcraft. Ultimately, black guy turns back to white; mute girl gains speech; Woody and Sharon marry; Og chooses to become human and love Susan; and everyone lives happily ever after, even if you didn't really follow how they got there.
Jim Norton plays Finian with Irish charm; his Finian is a lovable conniver blessed with a glint in his eye and an endless supply of quick-witted retorts. I'd describe him as a lovable leprechaun, but that would be unfair to Christopher Fitzgerald, who is in fact roguishly lovable as the leprechaun Og. Kate Baldwin and Cheyenne Jackson don't have much to do as the young lovers Sharon and Woody, but they both sing—especially the famous "Old Devil Moon"—beautifully. (This may be the perfect part for Mr. Jackson: It requires him to croon romantically, which he does well, and look pretty, which he does better, but it does not actually ask him to act.) And Chuck Cooper as the black version of Senator Rawkins makes you, too, thrilled the senator switched races.
John Lee Beatty has created a happily if unmemorably old-fashioned set for this happily old-fashioned show, a static background of very stagy green, rolling hills. Toni-Leslie James' costumes are equally, amusingly artificial—that is, equally celebrating the endeavor's artifice. (Og's green Converse Chucks are a particularly nice touch.) It's all very self-consciously let's-put-on-a-show.
But it shouldn't be, here on Broadway. Encores is a place for let's-put-on-a-show. Encores is a place for fun productions of great scores that don't merit a full revival (perhaps because the books make no sense). And Finian's Rainbow was a perfect Encores show.
LYNN REDGRAVE HAS refused to talk in interviews about the specifics of her health. But in 2003, she had a mastectomy and chemotherapy for breast cancer. And at some point since then, as she told The Times, she "became Stage IV." (Though she wouldn't say it, by definition that means the cancer has spread.) Until very recently—though not currently—she was undergoing treatment she won't specify at Sloan-Kettering, which is of course a cancer hospital.
As a result of the treatment, she is performing Nightingale—her new one-woman show, which opened last night at Manhattan Theatre Club's City Center Stage I—while sitting at a desk, with a script in front of her. The point of the monologue, which recounts the partially imagined life story of her maternal grandmother, an Edwardian wife in an unhappy marriage with an unfulfilling life, is that Ms. Redgrave, unlike grandmother Beanie, was able to escape her own unhappy marriage and has a long, happy life in front of her. But what the show is really about is death, life and death; it's haunted by a grandfather-clock motif—"tick, tock, tick, tock"—that reappears throughout the piece.
It can feel sometimes like a bit of a bait-and-switch—you'd love to hear more about Ms. Redgrave's life amid the detail about her grandmother's—but it's always compelling. Onstage, behind the desk, Ms. Redgrave looks healthy and vigorous, with a shock of spiky silver-brown hair, red lips and gleaming blue eyes.
It's almost an acting exercise: Alone onstage, no scene partners or props, without moving from a chair, now: act. Ms. Redgrave does, and it's riveting.