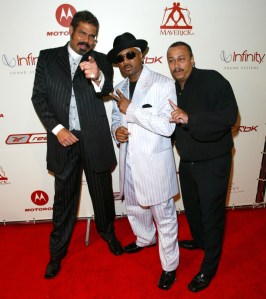 Rudy Giuliani thinks it's too nice to bring the 9/11 detainees to trial in New York, writes the Post:
"There seems to be an over-concern with the rights of terrorists and a lack of concern with the rights of the public."

He noted that terror chief Khalid Sheik Mohammed "asked to be brought to New York" when he was first arrested.

"I didn't think we were in the business of granting the requests of terrorists."
Still, the Post's Saturday front page–"Welcome to New York: NOW DIE!"–did not seem overly generous.
Today all three papers chronicle a Cypress Hills barfight that began with a spilled drink and culminated in police shooting a bouncer. The Times has police commissioner Raymond Kelly's blow-by-blow of the early Sunday morning events.
"It was a tumultuous situation, we see that from the security tapes," he said. "Chairs were being used and at least one shot was fired inside the bar."
The Times neglects to mention, however, the "celeb" status of the bouncer in question. Kevin White had worked as a bodyguard for Jay-Z, P. Diddy, and Mariah Carey–"rap and pop royalty," his relatives told the Post. Of course, White's brother also told the Post that White "would never carry a gun"; White has been arrested five times for weapons possession, so it's possible his relatives aren't the most reliable sources on that topic.
White was pronounced dead upon arrival at the hospital, and 19-year-old Donovan Wilson suffered injuries to the elbow and hip.
"It was a beautiful party until this fight started happening," DJ Timothy Stokes told the Daily News.
And a court fight amid former members of the Sugarhill Gang and their managers now includes claims against promoters and allegations of false rumors that one member had died.
"This," writes the Post, dutifully, "is no rapper's delight."