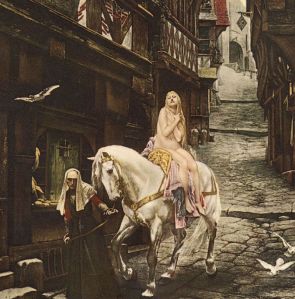 "Nude Loon Menaces Brooklyn Polling Place," says the Daily News. "Loon Stripped Naked, Claimed to be Jesus Christ's Baby."
The paper goes on to characterize the individual as "a crazy man stripped naked," a "nude dude," a "nude and nutty man," and a "kook" who "ditched his clothes."
"Loon" is the clear winner of this thesaurus showdown, and its vivid compactness deserves far greater headline currency–at least on the order of "slay."
A federal judge refused to return "gas masks, fireworks and revolutionary tracts" to the Queens anarchist accused of using Twitter to direct rioters at the G-20 summit. The Post reports that "a pound of liquid mercury, a book called Manifesto of Rioting and caltrops–sharp objects used to puncture tires and hobble horses" were among the items found in a raid on Elliott Madison's home. Madison maintains that the search was illegal.
Salvadoran gang leaders put out a hit on the feds responsible for a New York crackdown. Cops caught the Rockaway rape suspect. Roman Polanski applied for bail again.
And things apparently remained difficult for Marilyn and Dominic Carter upon their arrival in Kansas City. The NY1 anchor's wife disappeared from the couple's hotel room Sunday night, after a phone call to her daughter in which she seemed "under duress." The police opened a missing-persons case before finding her the next day, about to board a flight to New York alone. "She stated that she was fine and she just wanted to get back to New York," Kansas City Police Officer Darin Snapp told the Post.