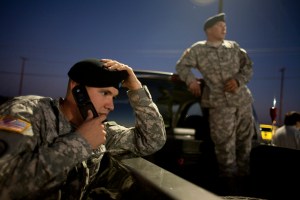 The shootings at Fort Hood dominated today's papers–12 soldiers and one civilian died at the Texas military base, and 28 more were wounded. According to The Times:
The gunman, identified as Maj. Nidal Malik Hasan, 39, was shot by a Fort Hood police officer responding to the scene. Mr. Hasan remained hospitalized on a ventilator on Friday morning, but was in stable condition, Army officials said at a news conference held at the entrance to the base.
Hasan was an Army psychiatrist about to be deployed to Afghanistan. The Times says that he listed "no religious preference" on his personnel records, but the Daily News says he was a devout Muslim. The Post goes with the headline "Muslim major screamed 'Allahu Akbar' before slaughtering 13 at Ft. Hood." The Daily News tries to make sense of his motives:
Maj. Nidal Malik Hasan was a soldier who didn't want to go to war, a man of God who defended murder and a doctor who shot up the soldiers he was supposed to heal.
Closer to home, the trial of a narcotics detective has brought attention to the "tricky balancing act" that law enforcement officers must strike in using confidential informers, says The Times. Detective Earl Williams is charged with official misconduct and hindering prosecution:
Prosecutors say that investigators for the Drug Enforcement Administration told Detective Williams that [his C.I.s] Batman and Robin had become the subjects of one of their investigations and that they were tapping their telephones.

In fact, prosecutors have said, Detective Williams knew that his confidential informers were selling drugs outside their sphere of work for him. But instead of trying to stop them, the prosecutors said, he continued to use them as informers, and even leaked crucial information to the two men.
And Bernard Kerik, as expected, pleaded guilty. Reports The Times:
In a deep, gravelly voice, he said, "Guilty, Your Honor," as the judge read the charges against him.