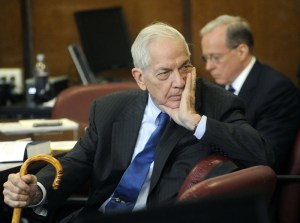 Brooke Astor's "swindling son" is trying to avoid jail, writes the Post. Sources tell the paper that Anthony Marshall will be filing a motion asking the judge to dismiss the first-degree grand larceny charges against him, based on his age, health, public service, and "fine work" in handling his incapacitated mother's accounts.
Elsewhere in eldercrime, the Post reports that a Manhattan judge has issued an arrest warrant for 78-year-old career criminal Katherine Kelly:
Kelly has a 30-year rap sheet for pickpocketing, purse snatching and con jobs. She has used some 20 aliases and 32 addresses, including the White House. Prosecutors have noted she's almost entirely burned off her fingerprints, to the point where printing her is nearly impossible.
One of Kelly's recent schemes involved snatching wallets from purses in unattended shopping carts, then hiding them behind oatmeal boxes for her boyfriend to retrieve.
Kelly missed her most recent court date–but her lawyer says that physical infirmity prevented her from exiting a car parked just outside the building, and that three court officers were afraid of hurting Kelly if they tried to lift her out. The Post deems this "a pretty good excuse"; the court professes confusion at the the paper's attitude:
Speaking on behalf of the judge, courts spokesman David Bookstaver said, "I'm legitimately confused. When judges are perceived to be less than tough on crime, the Post criticizes them. Here, a judge is being tough on a persistent misdemeanant, and the Post is criticizing him, too."
But the Post's coverage of Kelly does not seem entirely sympathetic. Their headline, after all, is "Hag-net."
The young, meanwhile, have found new and baffling means of terrorizing the city. The Daily News says that Manhattan gangs have taken to Twitter. "It's horrible," said NYPD lieutenant Kevin O'Connor. The social-networking street thugs take this in stride:
A 15-year-old nicknamed Lil V, who belongs to The New Dons, says Twitter is useful for "settin' up the fights" and making plans.
He seemed aware that the cops or anyone else could follow them – and said the gang takes precautions, using lingo gangsters from an earlier era wouldn't even understand.
"We got our own page," Lil V said. "Our page is private."
Twitter does not appear to be involved in the recent series of gang shootings on Staten Island.
And the economy either does or does not have a clear relationship to crime, according to The Times. Murder, rape, robbery, burglary, grand larceny, petty larceny, and car theft have all declined this year–in the midst of a recession. What does this mean for conventional wisdom?
"The idea that everyone has ingrained into them – that as the economy goes south, crime has to get worse – is wrong," said David M. Kennedy, a professor at the John Jay College of Criminal Justice. "It was never right to begin with."
Or:
"It's been very clear, since the beginning of time, that when things are bad, crime goes up," [Peter Vallone Jr., chairman of the City Council's Public Safety Committee] said, crediting [Police Commissioner Raymond] Kelly's strategies as the only thing keeping crime from spiking.
Or:
The findings have been "rather equivocal," said Steven F. Messner, a sociology professor at the State University of New York at Albany who has studied homicides in New York City.