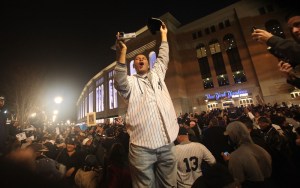 Yesterday, police raided two drug gangs based in South Bronx housing projects, seizing guns, drugs, and cash. They made 37 arrests, and charged 53 people altogether.
Both the The Times and the Daily News lead with the projects' proximity to Yankee Stadium: less than a mile. They're following police commissioner Raymond Kelly's lead in tying the bust to baseball. From the Daily News:
"The residents of the Bronx have a couple of reasons to be happy today," said Police Commissioner Raymond Kelly. "The Yankees are back home and a major drug-dealing operation, just 10 blocks from Yankee Stadium, has been taken out of business."
"At dawn this morning, as the grounds crews were preparing the stadium for the sixth game of the World Series," Commissioner Kelly said, the agencies "were doing their own housecleaning, so to speak."
Both papers recount also the various "brand names" the gangs used for their drugs–Magic, Poison, Scorpion–all of which sound like Little League team names. And regrettably, while both papers explain some drug-dealer slang, neither makes any comment on the term "pitchers" for street-level dealers.
The police are now investigating the gangs' involvement in firearms trafficking, 40 shootings, and 20 unsolved murders.
A good day for commissioner Kelly, and a not-totally-bad day for former commissioner Kerik: he's expected to accept a plea deal that will give him less than three years in jail, says The Times. If convicted of the most serious corruption charges against him, he would have faced up to 20 years.
And, for reasons that Dominic Carter does not understand, Dominic Carter continues to be unsympathetic. In fact, says the Post, he is whiny:
Poor Dominic Carter.

The violent NY1 political anchor and his lawyer have whined and moaned for the past year about how "unfair" the prosecution has been to him, and how they've wasted his "precious time" in pursuing charges that he was beating his wife, transcripts obtained by The Post show.

"This is unfair!" Carter griped at a March 26 hearing in Ramapo Justice Court in Rockland County, after prosecutors refused to cut him a deal and drop the case if he stayed out of trouble.

"Now I got to stand trial because I [won't] accept a plea bargain on anything," he griped, according to transcripts from multiple court hearings on a single charge of domestic-violence assault in October 2008.