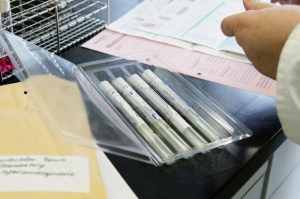 The UN missions of France and Austria and Uzbekistan's consulate general received envelopes of white powder yesterday, prompting an emergency resonse by city agencies as well as the FBI. All three letters bore Dallas postmarks and were delivered within a six-hour window, circumstances which suggested the possibility of a coordinated attack. More than 40 people were decontaminated before officials determined that the powder was benign. Reports the Daily News:
The letter received at the Uzbekistan Consulate included a note bearing the words "al-Qaida" in block letters, but initial tests of the suspicious powder in that letter came back negative for anthrax and other harmful substances, Deputy Police Commissioner Paul Browne said.
The Post characterizes the incident as a "'thrax scare" and an "elaborate hoax."
A Saks Fifth Avenue employee has been charged with grand larceny after ringing $130,000 in returns on stolen merchandise, says the Post. Security cameras recorded him crediting the returns to gift cards and then putting the gift cards in his pocket.
And Lionel McIntyre, a Columbia architecture professor, was arrested yesterday after punching fellow university employee Camille Davis during what the Post calls "a heated argument about race relations":
The professor, who is black, had been engaged in a fiery discussion about "white privilege" with Davis, who is white, and another male regular, who is also white, Friday night at 10:30 when fists started flying, patrons said.
After his arraignment, McIntyre said that the fight was "a very unfortunate event" and that he "didn't mean for it to explode the way it did."