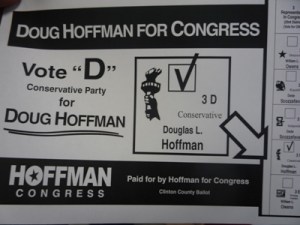 PLATTSBURGH—Look down!
Doug Hoffman's supporters are giving out these flyers, pointing to his name on Row "D" of the ballot. We're about to find out, circumstantially, just how much of a disadvantage this location is for Hoffman–most voters are used to voting for either a Republican or a Democrat–considering Assemblywoman Dede Scozzafava remains on the ballot in Row B.
Conservatives would love, of course, to take back Row C.