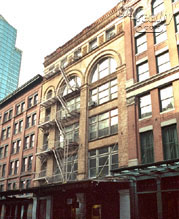 On Nov. 5, Condé Nast mogul Si Newhouse auctioned his spectacular Giacometti sculpture, L'Homme Qui Chavire, for $17.2 million, though he reportedly paid around $20 million for it. Still, the piece—which translates to "the falling man" or "the man who capsizes"—sold for a lot more than its $8 million to $12 million estimate, meaning that Mr. Newhouse knowingly risked losing many millions. His leap of faith left gossip types wondering if Condé Nast's capsizing extended beyond the workplace and into the Newhouses' personal fortune.
But on Nov. 16, less than two weeks after L'Homme sold, Mr. Newhouse's grandson, Samuel I. Newhouse IV, bought a "zen-like" loft in Tribeca. He paid $2,465,000.
There's no mortgage filing, which suggests he paid in cash.
His two-bedroom loft at 55 North Moore Street was listed with Halstead this May for $2,625,000. The apartment begins at a foyer with a "back-lit Onyx wall and custom industrial pendant light." Then, naturally, the Venetian-plastered hallway takes you to a gargantuan living/dining room where the ceilings are tin-pressed, the walls are made of "Cuban hand-rubbed white washed brick," and the open chef's kitchen's temperature-controlled wine refrigerator holds 40 bottles.
In the past six weeks, Condé Nast has shuttered four magazines, laid off 180 employees from those departed titles, and shed at least another 100 from the rest of the company.
More happily, the younger Newhouse, featured in Jamie Johnson's 2003 documentary Born Rich, married last May: Walter Anderson, Parade magazine's former CEO and chairman, "led the couple in their vows in a secular ceremony at the Brooklyn Botanic Garden," according to a Times wedding announcement. The new apartment's master bedroom suite is described in the Halstead listing as "a sensual zen-like sanctuary accentuated by a multitude of textures." It has a custom-milled walk-in closet and a shower whose mosaic-tiled floor is hand-cut.
Still, the guest bedroom's sleeping loft, with a vintage industrial ladder, is way cooler.
mabelson@observer.com, cmalle@observer.com