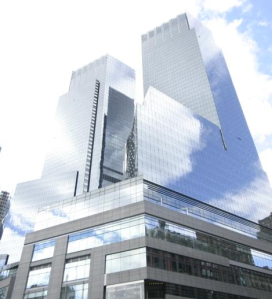 Earlier this month, a very wealthy and very Republican slice of Florida society was thrown into a very sweaty panic when the multimillionaire attorney Scott Rothstein was accused of running a Ponzi scheme that could total more than a billion dollars. Even though Mr. Rothstein, a spiky-haired and alligator-shoed Lamborghini driver, has said he was born in the Bronx (to a condom salesman), the scandal probably won't hit Manhattan as hard as Madoff's.
But one investor tied to Mr. Rothstein has already put his eight-room New York condo on the market. A Time Warner Center duplex that belongs to Doug Von Allmen was just listed for $18.45 million.
Mr. Von Allmen is a venture capitalist who founded a massive beauty supply distributor (which makes him something of a cosmetics magnate, just like his neighbor Sandie Tillotson, who has asked $80 million for her Time Warner penthouse.) He is the type who got two new yachts–the 197-foot Linda Lou and 157-foot Lady Linda–in a single autumn. When the Rothstein scandal broke, he went public as an investor. "The amount of money was substantial. It was an amount I wish I'd given to charity instead of that investment. It won't change my lifestyle that much, but it was a nice sum," Mr. Von Allmen said. "I will still eat out at a restaurant every night, this is just something I need to get through."
According to the duplex's listing, his Time Warner apartment has a 45.5-foot living room, a formal dining room with "vistas to the Atlantic Ocean," a marble chef's kitchen with a wine refrigerator, a private elevator, five marble bathrooms (plus a guest powder room), and a master suite with his-and-hers walk-in closets (plus his-and-hers bathrooms).
"Hopefully, everybody affected by this will still have a good life," he said in another interview. "They may not have as many toys."
Mr. Von Allmen's brokers are Elizabeth Lee Sample and Brenda Powers, the powerful agents who listed Tyco CFO Mark Swartz's Ritz-Carlton duplex for $28 million. "Everything is questionable when you deal with that much money," Ms. Powers said in a joint interview last year. "From a moral point of view, yes, it is questionable; but from the business point of view, it isn't questionable, it's business."
mabelson@observer.com