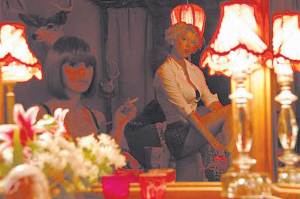 Women in Trouble
Running time 92 minutes
Written and directed by Sebastian Gutierrez
Starring Carla Guigino, Josh Brolin, Adrianne Palicki, Connie Britton
In the "whatever were they thinking of" genre, a new entry: Women in Trouble. It's a movie in trouble, about … nothing, really, except a day in the lives of a screenful of trashy women: a pregnant porno star called Elektra Luxx, playing an oversexed nun; her idiot sister, called Holly Rocket, who throws up on her co-star during her first lesbian wallow after eating bad Mexican food; a therapist whose husband is sleeping with one of her patients; a flight attendant who services a doped-out rock star, who drops dead in the lavatory in the middle of both a storm and an orgasm; a horny masseuse; a woman pretending to be the mother of her sister's child (all of them patients of the shrink); and … but how much is enough? The rock star (Josh Brolin, with a variety of accents, all ridiculous) is the father of the unborn baby inside the porno star (gorgeous Carla Gugino, who deserves better material). Elektra is a veteran of 62 porno flicks, with her own Web site and a copyright for the No. 1 best-selling fake vagina on the market. Her idiot sister (poor Adrianne Palicki) has a long scene describing sex with a golden retriever. Their lives are tangentially conjoined by meetings in emergency rooms, dyke bars and stalled elevators. The point, I guess, is that women who have the most sex enjoy it the least. I think it's supposed to be a comedy, but it isn't. It's just dumb, dirty and disgusting. How do they think up this stuff, and where do they go to find the fools to finance it? The hack writer-director is Sebastian Gutierrez, who made the Grade Z horror flick Snakes on a Plane. What can I say, dear, after I say I'm sorry?
rreed@observer.com