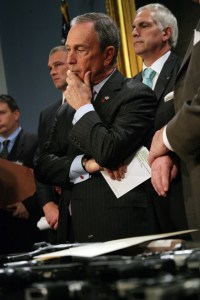 NYC Magazine expects layoffs from Michael Bloomberg.
Hotline notices a Kos diarist's unhappiness with Chuck Schumer's health care plan.
By the way: happy birthday, Senator!
Anthony Weiner said he'd want Schumer on his side "maybe even more than the president of the United States."
"Help Elect Andrew Cuomo in 2010."
Kirsten Gillibrand's approval ratings are stagnant.
Nobody likes the legislature.
The RNC's mouthpiece is leaving.
Ruben Diaz Sr. protested gun violence in his district, rather than sitting in Albany.
Dan Bazile, former Tedisco aide, covered a Tea Party.
Love Denny.
The jury will start deliberating Joe Bruno's fate today.
Gene Russianoff looks at Bill de Blasio and John Liu.
Lou Dobbs is officially considering doing something official.