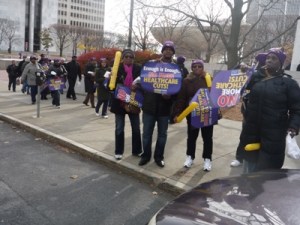 Doug Hoffman lost by less than he thought.
But it still looks like he lost.
And he's 'seriously' thinking of running again.
The case of the Man Cave is closed.
Tom DiNapoli found the Syracuse school district is owed over a million dollars.
Intel settled with AMD.
The health care lobby came to lobby.
David Paterson thinks Obama will come to stump.
The Human Rights Campaign endorsed Kirsten Gillibrand.
Michael Bloomberg is reportedly endorsing Alan Khazei for Ted Kennedy's seat.
A blogger says if Obama had been more supportive, "Thompson would have beaten Bloomberg in one of the greatest political upsets since… Barack Obama's own campaign for president."
Arthur Schwartz: "Bill Thompson failed to inspire, so our district, which is more than 90 percent Democratic, voted to stay with the incumbent, Mike Bloomberg, by a margin of 15,057 to 7,894."
Tony Avella isn't surprised.
A Schumer-Weiner alum explains how Democrats got their PR groove back.
Larry Littlefield wags his finger.
And Two Bronx schools aren't sending out progress reports.