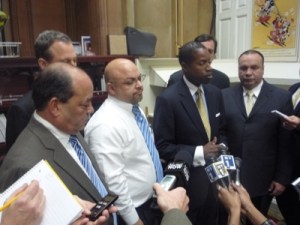 Rupert Murdoch said David Paterson is "blind, and can't read braille, and doesn't know what's going on."
Michael Bloomberg said it's "unrealistic" that the city will get out of this budget crunch without layoffs.
Bloomberg's "spending reductions are not tied to revenue collection performance."

Apply to work in John Liu's office.

Richard Lipsky responded to what Jimmy and Bill Hammond wrote about Carl Kruger.
Mario Cuomo parried some questions last night at the Writers Institute anniversary gala.
New York-based opposition to having the terrorist trial here skews old and white.
Cops raided newspaper printing plants.

A report says New York needs tort reform.
Tom DiNapoli wrote a report saying Wall Street "has recovered much faster than anyone had envisioned."
DiNapoli said "I told you so" this morning.
Assembly Republicans made deficit proposals.
Charles Gargano is giving to Rick Lazio.
You can't unconcede an election, Josh Kraushaar says.
It won't matter: Doug Hoffman is still 2,957 votes down.
Officially, his campaign is taking no action.
Representative John Shadegg apologized for "the insensitivity of my remarks."
Stu Loeser's friend is featured in Variety.

Here's more on Citizens Union new targets in Albany.

Downtown Express says residents there consider the 9/11 trial and "unwelcome intrusion."

Aaron Short ponders the muscle of Vito Lopez.
Anthony Weiner gets profiled in City Hall News.