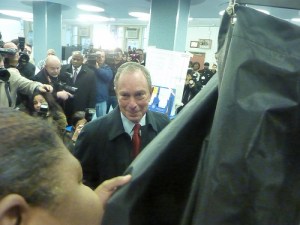 Barack Obama needs to win at least one race today, says Ross Baker.
Howard Wolfson versus Joyce Purnick, on Twitter.
"[N]o one really knows how the undecided vote will break," upstate, says Andrew Siff.
Josh Kraushaar is watching five things.
Bill Owens is less high-strung than Liz.
Joe Biden made a robocall for him.
The Club for Growth spent over $1 million on Hoffman.
Hoffman was greeted "like a celebrity" in Fulton.
Andrew Cuomo says NY-23 isn't a big deal for Obama.
Michael Roston thinks I'm now a Bloomberg supporter.
Gatemouth hits the Post for accusing Thompson of anti-Semitic sympathies while not saying anything about Bloomberg's ties to Fred Newman and Lenora Fulani.
A Democratic Bloomberg supporter defends the mayors spending on economic grounds. "Instead of Bloomberg keeping it, working people are getting the money – the [waiters] at those benefit dinners and whatnot."
The AP puts term limits in context. "The anger isn't widely predicted to boil up enough for a Mr. Thompson upset."
The Post blogs.
Someone in Queens is accusing Liz Crowley of supporting gay marriage.
The Oracle in Brooklyn gets behind Bloomberg.
Billy Talen is still running.
The Christian Science Monitor expects Bloomberg to win.
There's lots of voting left to do in Plattsburgh.
Some Democrats hope Charlie Crist is the next Dede Scozzafava.
The Albany Common Council rejected Hiram Monserrate.