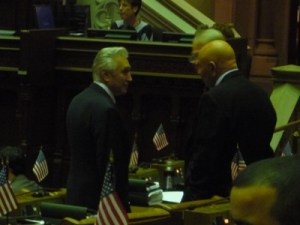 No verdict today in the Joe Bruno trial.
Add Michael Balboni to the list of possible U.S. Senate candidates.
Democratic governors are watching their poll ratings slip.
Tom Suozzi is almost ready to accept defeat.
Jason Chaffetz says it's time to bring home the troops.
Tom DiNapoli reported on the pension fund.
The Albany Project floats a redistricting plan.
Dorris Kearns Goodwin on New York Now.
Mike Long convened some Gillibrand challengers.
Frank Padavan is not concerned about David Weprin.
Representative Mike McMahon has a fund-raiser on December 6 at the Excelsior Grand.

Here's more on Bloomberg's new commissioners.

Washington City Paper: "Schiraldi has also come under regular fire from public safety advocates, including prosecutors and judges, for placing violent youths back into community settings, sometimes with little supervision."
"I don't care what you do. Get the f… out. I'll kick your f… ass," Sgt. Kevin Kayes of the N.Y.P.D. reportedly told Daily News reporter Wil Cruz.

Gabe Pressman: "Thompson won a moral victory."
Vito Fossella keeps stepping back into the public sphere.

Joel Klein is on Staten Island tonight.
A lawyer for Al Sharpton's daughter defends her cursing out a police officer.
Somehow, Tiger Woods' alleged mistress gets loosely linked to Rudy Giuliani.
John Liu is searching nationwide for a chief investment officer, and other positions. Apply here.

And Bill Thompson is on Inside City Hall tonight.
Below, video of Dede Scozzafava on Face the Nation this weekend.