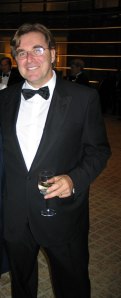 Marco Stoffel is a mysterious man.
His 24-foot-wide West 12th Street townhouse, on a lovely cobblestone block, has been home to peculiar not-for-profits like the Borderline Personality Disorder Research Foundation and the Third Millennium Foundation, which partnered with Al Gore's Current TV for a contest called "Seeds of Tolerance." According to a press release, the winner was announced at an event with Mr. Stoffel, Mr. Gore, Aerosmith's Steven Tyler and Lindsay Lohan. The foundation's International Center for Tolerance Education was on the house's fourth floor.
Things get murkier from there. Late last decade, Mr. Stoffel was essentially put in charge of a European family's trust, which owns the astoundingly beautiful One Broadway, an old shipping building on Battery Park. According to a lawsuit filed in late 2007, he spent the next eight years using the trust "as his personal piggy bank in order to lead a lavish lifestyle and portray himself to the world as an ersatz philanthropist." The Harvard Law graduate is a member of the New Museum's Producers Council, and he belongs to a Human Rights Watch advisory committee that he recently chaired.
To hide his transgressions, the suit says, Mr. Stoffel laundered money, made false documents and transferred funds through offshore shells—and he continued to transfer millions after he was removed from his post. The suit jumps from Switzerland to the Virgin Islands to Ireland to 340 West 12th Street, where he allegedly reimbursed himself for $100,000 of furniture.
Earlier this year, the New York State Supreme Court essentially ordered Mr. Stoffel to pay the trust a little over $36.5 million, though it's not clear from court records where that money will come from, let alone where Mr. Stoffel is now. But, according to a deed filed in city records, the Sheriff of the City of New York sold the West 12th Street townhouse at an auction to the trust for $1.9 million, which comes out of the money they're owed.
"The trust is evaluating when and whether to sell the property," said Scott S. Balber, its attorney.
In April 2008, Mr. Stoffel put the house on the market for $14 million, though it came off after less than one week. "Oh, I can't discuss that," said Toni Kousoulas, the house's broker. For just over a month this year, the house was available to rent through another agent. According to the listings, the place has up to seven bedrooms, a chef's kitchen, a private patio, fireplaces and a carriage house in the back with a 22-foot ceiling.
Mr. Stoffel has good taste in Brooklyn real estate, too. In 2004, his Tolerance Education center rented a floor from David Walentas on Dumbo's Washington Street. "We met him through an old friend years ago," the massive Brooklyn landlord said. "He's very charming—he bought a house in the West Village—and our relationship with him was always social and pleasant." But there were rumors. "We know people that know him, so we've had, sort of, comments from people," Mr. Walentas said. "But we never really knew. And he moved to Argentina, I think."
Another source said he's in Switzerland, where he's a citizen. Three phone numbers listed for Mr. Stoffel didn't work, but an art historian listed as his wife in a brief 2007 biography was found online. "You have some nerve contacting me via Facebook," she wrote back. "This is none of your business, and whoever set you up for this is a big AH and you are one too. Find another profession. Never contact me again."
The New Museum, Current TV and Human Rights Watch did not return messages.
mabelson@observer.com