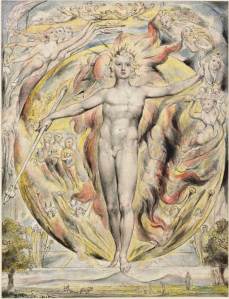 Who among us has not envisioned a better world and imagined ways to transform the troubled here and now to a new and radiant day? William Blake (1757-1827), an artist and poet of uniquely configured creative talent, put his eye, heart and soul on the line with each attempt to transform the world on behalf of himself and us. So it is no wonder that "William Blake's World: 'A New Heaven Is Begun,'" now at the Morgan Library & Museum, is as fresh as it is exciting.
And yet this does not quite explain why the extreme art of William Blake looks as fresh as it does unless one takes into account the curatorial wisdom to invent a retrospective that itself passes from earthly struggles to otherworldly transfiguration. So in the single squarish gallery devoted to this show, one finds cardinal points of reference: to the south, engravings after Michelangelo, Watteau and Fuseli, showing the fundamental craft by which Blake was to be first known; to the east, friends and followers, where again Fuseli, yet also Flaxman and Palmer—all loose cannons, and each in his own way—embody the cohort of individuals in pursuit of personal expression as empires were cracking under revolutionary forces and neo-Classicism no longer bound the artist to its will; to the north, the rarely seen entirety of The Book of Job (1805-10), watercolors commissioned by the civil servant, Thomas Butts, who gave Blake the opportunity to manifest Job's personal spiritual struggle as a proud pageant of the One against the Many; to the west from "Continental Prophesies" is the relief etching America: A Prophecy (1793), born of fiery revolution and a fledging experiment in liberty; at last returning south, for late watercolor illustrations again commissioned by Thomas Butts, for Milton's L'Allegro and Il Penseroso (1816-20), to celebrate the variable states of spiritual indwelling, from melancholy to mirth, and under the presence of the transforming sun.
From this last series is The Sun at his Eastern Gate. An inspired composition, this shows a figure elevated in its mandorla of flame rising above the landscape it touches. Here, too, is the consequence of a lifelong love of Gothic art. Blake had drawn and redrawn Gothic art when it was still out of favor because he found organic life in its attenuated proportions, and here is his proof: a calligraphic grace that entwines the figure and field and gives all form buoyancy.
The many amazing drawings in this show are that much more vibrant, however, for being seen in the context of the series in which they were done and for being made available in the context of a lived life. Beyond this, it is helpful to remember that though exceptional in many ways, William Blake was living through some of the greatest tectonic shifts European culture has even seen: With each fresh avowal to revolution, peoples underwrote new apocalyptic visions and lurid aftermaths. In this sense, Blake's extreme art tracks the story of his age.
NOT JUST A companion to the exhibition, then, is "Rococo and Revolution: Eighteenth-Century French Drawings," a show across the hall in the Morgan Library that gives Blake's visionary art still further cultural context. The period's intrigues are magnified, perhaps, by viewing the shows in reverse chronological order. What the cultural world in France was like before revolutions and liberties comes to seem both beautiful in itself and fascinating in its own visionary proposals for an urbane critical spirit enjoyed by an educated public.
Antoine Watteau's extravagant natural talent allowed him to rise from obscurity to stardom very fast before he died young, in 1721, and here are several of the most luminous of his drawings, one redrawn emphatically to reinforce the structural relation of the shoulder to pelvis—a great moment to catch a glimpse of how the artist actually thinks proactively in his studio practice.
Of the several chalk drawings by Pierre-Palu Prud'hon, there is the much admired gravity of a portrait of Empress Joséphine, done in 1805, and another work drawn with blunt energy and depicting a cupid whose success in delivering an amorous blow dart to a now tearful victim registers in his own wry self-satisfaction.
All the heavyweights are here, from Boucher to David, represented with superb examples of their work in styles and with themes that convey the mentalities of an age, one not without its visionaries as well. A perennial favorite for the Enlightenment's paper architecture is the proposal for a library by Étienne-Louis Boullée; in pen, ink and wash, the artist's drawing has enclosed an outdoor space to create a vast barrel-vaulted hall lined with books and opened to light through an oblong oculus, to express the hope that through an educated public who can avail themselves of books, human discourse can occur and bring about a world of reasonable harmony. What a preposterous idea!
"William Blake's World: 'A New Heaven Is Begun'" and "Rococo and Revolution: Eighteenth-Century French Drawings," are both on view at the Morgan Library & Museum, 225 Madison Avenue, through Jan. 3, 2010.