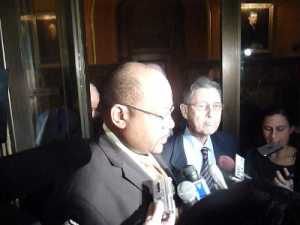 ALBANY—Assembly Speaker Sheldon Silver refused to rule out a two-way agreement with David Paterson to act on the state's budget deficit.
"My members would like to, and we do agree with the governor that it's a serious situation and we have to make serious cuts, and nobody likes to make serious cuts to anything but the reality is the fiscal situation is that you have to make cuts," Silver said, leaving a closed-door leaders meeting. "So many of my members are prepared to make the right choices, but in the end result, negotiating an agreement with both houses and the governor produces a real budget as opposed to a political statement. It's time to take politics out of it and just govern like we were elected to govern."
He was asked if he was ruling it out.
"I'm not ruling anything out; I'm not ruling anything in," Silver replied. "All I am saying to you is that at this point I am trying at all efforts to get a three-way deal."
On the way into the meeting, Silver was asked the same question. "There's no reason to talk about it. It doesn't get us a law. We need a three-way deal."
When I brought up the members who were lobbying him, he offered what passes for humor nowadays: "They're not lobbying me. They're not registered."