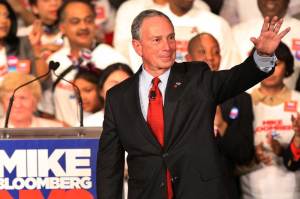 Mayor Michael Bloomberg now has the time and the mandate to create a legacy of LaGuardia-like proportions. His reelection after a catastrophic economic collapse on Wall Street, leading to the loss of tens of thousands of jobs, is a tribute to the high regard New Yorkers have for his managerial skills, economic vision and common sense. Voters clearly understand that as bad as things are in some sectors of the economy, matters could have been a lot worse were it not for Mr. Bloomberg's careful stewardship of the city's finances over the past eight years.
As the economy begins to pick up, Mr. Bloomberg will be able to think long term again rather than focus on financial crisis management. Macro issues like sustainable economic growth and education reform can take their rightful place at the top of the mayor's agenda.
But if Mr. Bloomberg is going to make the most of his final term, he will not have the luxury of settling for incremental change. He is an official lame duck, and this time, it really means something. Mr. Bloomberg managed to finesse the city's term-limits law to win a third term—a good move, in our view. But that won't happen again. History suggests that as a lame duck, Mr. Bloomberg has two years to initiate and implement his agenda. After that, the mayor's powers of persuasion will atrophy as his colleagues in government begin to regard him as yesterday's news.
While Mr. Bloomberg's new term doesn't start officially until Jan. 1, there's no time like the present to think about how the next four years should play out. In our view, here's how Mike Bloomberg can ensure himself a place in the city's pantheon of truly great mayors:
Keep Joel Klein as schools chancellor. Mr. Klein has brought stability, creativity, and accountability to a system that needed all three attributes. Other cities seeking to emulate Mr. Bloomberg's successes surely will try to lure away Mr. Klein. Mr. Bloomberg should see to it that the chancellor does not lack for new challenges. One of them should be the continued expansion of charter schools.
Keep Raymond Kelly as police commissioner. When Mr. Bloomberg took office eight years ago, many observers believed that the years of historic decreases in crime were over. They were wrong. Under Mr. Kelly's leadership, the NYPD continues to score impressive victories in the war on crime, even as overall police strength has declined from 41,000 to about 35,000, and even as the NYPD's mission has expanded to include counterterrorism.
Cut real estate taxes and lower the cost of building in New York. The real estate industry remains a driving force in the city's economy. It took a huge hit during the recession, but it can be positioned to become an important part of a robust recovery and the creator of well-paying construction jobs.
Continue to build a municipal workforce for the 21st century. All new city workers should pay for a portion of their health insurance and should pay into 401(k) retirement plans.
Archaic work rules must be tossed into history's dustbin. Unions cannot stand in the way of creativity and innovation, but by the same token, city managers should not be trying to create a workforce of low-paid temps either. The service and sacrifice of many city workers deserves our respect and admiration.
Watch out for political traps lurking in the wilderness of state politics. Next year's elections for governor and U.S. Senate promise to be filled with intrigue. Mr. Bloomberg will be under pressure from Democrats and Republicans alike to get involved in some way. He should avoid getting ensnared in what promises to be a bitter and unpredictable election cycle.
Third terms rarely produce much in the way of innovation and creativity, as the records of Mario Cuomo, George Pataki and Ed Koch suggest. Mr. Bloomberg persuaded New York that he can break that pattern. If he does, he will earn his spot in city history.