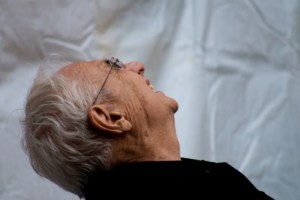 At a topping-off ceremony for his Beekman Tower yesterday, 80-year old architect Frank Gehry took to the podium and made one of those slightly randy jokes that men can get away with when they're 80. Mr. Gehry pointed his finger upright toward the 76-tower residential complex and bluntly proclaimed: "No Viagra."
Mr. Gehry said he will wait awhile to see the view from what will eventually be the tallest residential building in Manhattan. "I can't wait till it's finished. I have height freights, I'm not going to go up. I'll wait till the real elevators are in," he said. The Pritzker-prize winner told Eliot Brown that his tallest building prior to the Beekman Tower was only about 40 stories. Eliot has a slideshow of the ceremony, which was the first time Mr. Gehry has been seen in public with Bruce Ratner since Mr. Ratner scrapped his plans for Atlantic Yards.
While Mr. Gehry seemd to have a good time, the day was probably less enjoyable for Bruce Ratner, who now has another Atlantic Yards lawsuit to litigate.