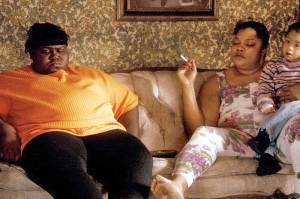 Precious: Based on the Novel 'Push' by Sapphire
Running time 110 minutes
Written by Geoffrey Fletcher
Directed by Lee Daniels
Starring Gabourey Sidibe, Mo'Nique, Paula Patton, Mariah Carey
Raw, harrowing and undeniably unsettling, the controversial, much-anticipated Precious arrives on waves of film festival buzz this week. See it at your own risk, but be forewarned: It is not for the delicate of stomach or faint of heart. Nevertheless, it is so powerful a depiction of abuse among the mentally challenged and socially disenfranchised that it even manages to rise above what may well be the most pretentious title of the year. Yes, it's actually called Precious: Based on the Novel 'Push' by Sapphire—an albatross that won't fit on any marquee, destined to keep potential filmgoers away by the thousands. You can't even say it, much less remember it.
This is a shame, because Precious is one of the most unforgettable films of the decade. Business will probably build with the endorsement of Oprah Winfrey, who had already seen it before she signed on as executive producer. At this year's Toronto Film Festival, she said it left her gasping for air, adding that she sees women like Precious on the street constantly and even saw herself in the character. This is hard to believe, since Precious is an obese, illiterate 16-year-old in the slums of Harlem who is verbally and physically assaulted on a daily basis by her vile, addicted mother and pregnant by her own father for the second time. Newcomer Gabourey Sidibe, an office worker who beat out 500 seasoned actors for the title role, is positively astounding. Like everything Oprah promotes, the movie follows the classic Oprah formula: Mix one part suffering with two parts redemption and watch the audience squirm, then cry.
Claireece "Precious" Jones is plagued by more suffering than most people have the strength to endure in a lifetime. Shuffled between a father who rapes her and a chain-smoking slob of a mother who force-feeds her junk food in the hope that she will grow lethargic and fat enough to qualify for food stamps, Precious confides to her welfare worker that she had her first baby on the kitchen floor while her mother was kicking her. (The mother now calls the baby "Mongo," which is short for "mongoloid".) The mother is both brutal and sympathetic, thanks to the cliché-resistant direction of Lee Daniels and a blazing performance by the potty-mouthed, two-fisted comedian Mo'Nique. Salvation is rendered by a beautiful teacher improbably named Blu Rain (Paula Patton), who teaches Precious to read, write, confront her demons by keeping a journal and come out of her shell long enough to stand up for her own rights; and by a dowdy, plain-speaking social worker (played by singer Mariah Carey with no makeup and a look of dour exhaustion) who helps Precious find some dignity in a life of hell. The movie is about the struggle to survive in the face of severe adversity, and the message is that every undervalued Precious deserves respect as a human being.
To reach this moral, you are first subjected to almost as much pain as Precious. Already in the ninth grade and incapable of making complete sentences, she constructs barriers against the misery inflicted by her parents and by the other girls in her alternative learning program. This is obviously a girl who's never heard of portion control. There's a scene where Precious, destitute and hungry, steals an enormous bucket of fried chicken, wolfs it down running and throws up on the street. Some of the material is humorous but most of it is downright shocking, as Precious bravely bears black eyes delivered by her mother and heartbreaking humiliations from classmates who make oinking pig noises when she leaves the room. By the time her mother throws her new baby on the floor in a lacerating tantrum, there will doubtlessly be a few who head for the exit doors. There isn't much for Precious to live for. When she looks up toward heaven, it's not in pride, but with the hope that a grand piano will fall on her head.
Miraculously, she can still dream. Depression lifts only when she escapes reality long enough to imagine she's a model or a rock star, dressed in feathers and finery, like Jennifer Hudson in Dreamgirls, for a movie-musical close-up. In the fantasy sequences, director Lee Daniels relieves the tension by creating an inner world of celebrity and adoration that people like Precious see only on a TV screen in the squalor of their dimly lit rooms. The highs and lows in Geoffrey Fletcher's screenplay capture the mood and imagination of the book by Ramona Lofton ("Sapphire"), who based the hardscrabble story on events she witnessed when she was a teacher in Harlem, and the magnificent actors are all inspired, many of them sure bets when awards season arrives. When she finally discovers an inner spirit that emerges after years of ignorance and neglect and summons the courage to leave home, you may applaud through your tears, but you won't look at the next Preciouses you see on the subway and find them invisible.