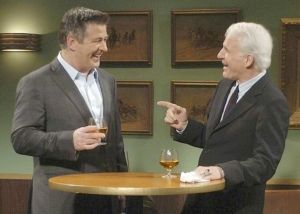 Don't look now, but the Oscars just got interesting. No, not because of the ten potential Best Picture nominees—as we've already discussed , this has a chance to be the worst field of Best Picture candidates since … well, last year—but rather because of the actual telecast. The improvements started with the news that so-boring-paint-drying-itself-would-flip-the-channel honorary awards would be given out on a separate night; continued when the rules for Best Original Song were adjusted to the point where no songs might be nominated at all; and has now culminated with the selection of Alec Baldwin and Steve Martin as co-hosts. Dare we say it … this could be fun! Here are three reasons why this dynamic duo of snark might be the best hosts the Oscars could have hoped to get.
Sometimes it's better to be safe than sorry!
Okay, we're the first to admit that selecting two upper-middle-aged white guys to host the Oscars isn't as out-of-the-box as Ricky Gervais or Hugh Jackman—nor as inspired as Justin Timberlake, Tina Fey or Will Smith might have been—but, as the saying goes, funny is funny. And Messrs. Martin and Baldwin are funny. Plus, experienced! Besides Mr. Martin's turns as host in 2001 and 2003, the two have 29 combined appearances on Saturday Night Live, meaning they know how to handle the necessary read-and-react ad libs that all good Oscar hosts need. And speaking of Saturday Night Live …
Maybe now there will be a major role for Tina Fey to play!
While it would have been great to have a female host the Oscars, perhaps the next best thing will be Ms. Fey's presence throughout the telecast. We already know about her great chemistry with Mr. Baldwin on 30 Rock—their comedic sexual tension is so palpable, we're already salivating at the thought of a Liz/Jack hook-up in season six—but she's also had some great moments with Mr. Martin over the past few years. (See: 30 Rock, Baby Mama, and this year's Oscars.) If Ms. Fey winds up writing or participating in even just a few segments, the entire show is certain to be a whole lot funnier.
At least they're not Robert Downey Jr. and Ben Stiller!
With due respect to the stars of the underrated and hilarious Tropic Thunder, if they had in fact accepted the supposed offer by producers Adam Shankman and Bill Mechanic to co-host, we could have been looking at the worst show since David Letterman handled the duties [Ed note: Team Letterman!]. Shiver! Nothing about those two suggests they would be good masters of ceremonies. Though we guess it could have been even worse: What if they decided to bring back Billy Crystal?