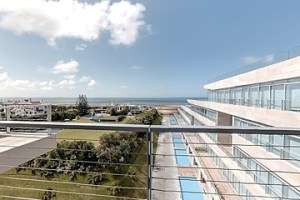 When I lived in Buenos Aires, I spent many fabulous weekends in Punta del Este. Today the resort is as happening as ever—especially with the opening of Edificio Acqua, a cutting-edge, visually stunning residential experience and the first of its kind in Punta.
The five-story L-shaped building with cascading terraces was designed by renowned architect, Rafael Viñoly, and features high-tech design plus fabulous amenities: private swimming pools, gym with sauna and Jacuzzi, year-round housekeeping service, 24-hour concierge, wine cellars, home theaters, security, VIP access to beach club, and large terraces with incomparable ocean views.
I had the pleasure of meeting Alejandro Agárdy, who, with his father, is one of the passionate developers of Edificio Acqua. "Acqua is like a precious diamond, a true work of art by one of the world's top architects," says Alejandro. "We wanted to revolutionize the local market by setting new standards of construction and design—you're close enough to the city to walk or bike to the cinemas, shops & restaurants, and Punta's tennis club and two main golf courses are a few blocks away. Because it's not in a remote area, Acqua is a place you can enjoy year round."
Intrigued? Take a tour of the public areas of the building and one of the units. Half the 34 units are already sold (prices start at $980,000) so be sure to inquire.
Mention "Suzanne's Files" when inquiring, and this coming summer season, December 2009 through March 2010, Edificio Acqua will invite you to enjoy lunch or dinner for two at the chic Acqua Beach Club. To learn more about this offer and answer any questions you might have about the residences, please contact Alejandra Saggese at asaggese@acqua.com.uy
Suzanne Aaronson, Co-founder of Suzanne's Files, is our Travel Curator. Stay in-the-know on her latest finds and insider tips by signing up to receive Notes from Suzanne's Files, a free e-newsletter.