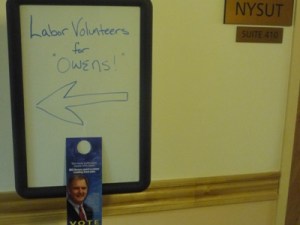 PLATTSBURGH—The door to Bill Owens' Durkee Street war room is marked with marker on a white board, probably because it was working against him until this Saturday.
I found half a dozen members of NYSUT and the AFL-CIO there, making calls in a fourth-floor conference center next to a pile of glossy door-hangers, water bottles and an empty pizza box. Both labor organizations came out for Owens when Republican Assemblywoman Dede Scozzafava dropped out of the race on Saturday, then endorsed Owens on Sunday. If he is able to make up his deficit in the polls–which show him trailing Conservative candidate Doug Hoffman by five points–it will be through the efforts of people like this.
"So I think I'm going to head out. All the people I'm calling say they've been called four times by NYSUT already," David Curry, a professor of nursing at SUNY Plattsburgh said just before 7 p.m. Michele Bushey, who was running the ad hoc call center, agreed.
Bushey told me that usually volunteers make 400-500 calls to retired and active union members. A registered Republican, she had personally supported Scozzafava and has been working for several weeks on her behalf. On Sunday, she developed a new call script explaining that "NYSUT's decision to endorse Bill Owens was made as soon as Candidate Scozzafava released her supporters to end her active campaign. Dede Scozzafava has officially endorsed Bill Owens. We are hoping you will support your union's endorsed candidate."
"A bunch of them didn't know that NYSUT had changed the endorsement," Curry said. "Most of them were supporting Dede and sounded willing to follow NYSUT."
He said he called around 40 or 50 people. Debbie Trombly, a math teacher from Saranac Schools, said she called around 85. Rod Sherman, another math teacher from Plattsburgh and member of NYSUT's executive committee, had been calling all day from home.
"I had a difficult time with this because Bill Owens lives in Plattsburgh," Sherman told me, referring to the earlier endorsement of Scozzafava. "His kids are in our schools. A lot of people had a hard time with it, and with it switched, there was relief."
Earlier, I had seen two women hold a United University Professions sign behind Owens as he talked to voters at the Clinton County Democratic Headquarters, one of whom suggested I go to Durkee Street.
A man in grease-stained Carhartts walked in and handed a walking sheet to Amy Desjardins, who arrived at 2 p.m. this afternoon to run field operations for the AFL-CIO. There 20 members from five unions knocking on doors tonight, most of them apprentices. The AFL-CIO had previously not endorsed any candidate, but Hoffman's stances are so clearly anti-labor that everybody jumped in for Owens.
I left around 7:30 p.m. Desjardins said she would be there the next morning at 6.