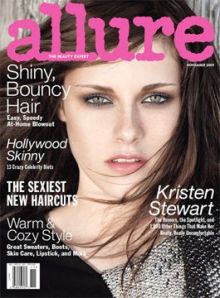 "What's it like to be a good old-fashioned print rag during this era of relentless downsizing?" asks Fashion Week Daily.
The Daily seeks answers in the form of an imaginary interview with Allure magazine.
This is an inventive choice, but perhaps not the most illuminating:
Do you move on the newsstand? Be honest.
It really depends. Sometimes I linger, especially in bodegas. I do better at airports. Even with my strict exercise regime and all that green juice, I feel totally lame when the US Weeklys of the stand outperform me. If I could cry, I would. I think I have body dysmorphia disorder.
Fashion Week Daily is required reading during Fashion Week. The off-season seems to find them at loose ends.