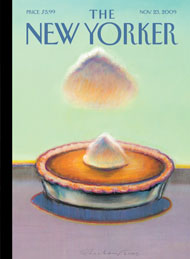 This summer, John Koblin considered the rift between publicity-seeking food bloggers and the secretive "old-fashioned restaurant critic." This week, in its annual Food Issue, The New Yorker reports on a breed of critic far more old-fashioned than Frank Bruni–the Michelin inspector.
In an unprecedented journalistic feat, John Colapinto accompanies an inspector to lunch at Jean-Georges, and discovers that Frank Bruni and Sam Sifton's travails are amusingly transparent by the French restaurant guide's standards. Wearing a mustache? This is a joke to the Michelin people. "Major newspapers like The Times aspire to anonymity for their restaurant reviewers but rarely achieve it," writes Colapinto:
As a precondition of our interview, I was told that certain details of the inspector's personal life would be obscured-or not divulged to me at all. When I asked her name, the inspector laughed nervously. "No," she said. "Let's not even say it. Make something up."

I suggested the first thing that came to mind. "Maxime?"

Naret smiled, and then, with a soupçon of extra secrecy, began referring to her as M.

Maxime is a New Yorker. She said that speaking to me about her work felt "surreal." "We spend all our time not letting people know who we are," she said, but admitted that she had told her husband what she does for a living. "He's an attorney; he knows all about confidentiality." For most others, she keeps her occupation vague. "We try not to lie," she said. "You say you're 'in publishing,' something like that."
M. leads a lonely life: foreign training, coded notes, solitary meals. Also: The absence of terrible CIA–CIA jokes reflects well on everyone involved in this article.