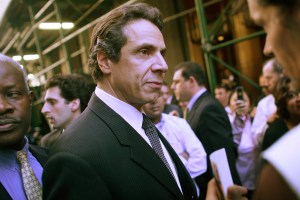 Intel announced this morning that it had agreed to pay rival chipmaker Advance Micro Devices $1.25 billion, and change its business practices, in order to settle private antitrust suits in Delaware and Japan.
But that won't stop Attorney General Cuomo from pursuing the suit he filed last week on behalf of the public. A source close to the investigation says Intel's announcement "will not have an effect" on the Attorney General's suit. Mr. Cuomo's complaint alleges Intel guised payoffs as "rebates" to computer manufacturers, in violation of state and federal antitrust laws.
As Jimmy Vielkind pointed out last week, the suit has a local angle too: A.M.D. is the largest company for a chip fab being built in Saratoga County with $1.2 billion in direct incentives from the state.