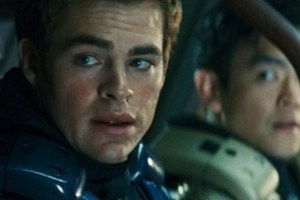 Disney is already running Variety "For Your Consideration" ads supporting Up for Best Picture, reports Christopher Rosen. But, he contends, another hit is being unfairly neglected: Star Trek.
"Under no metric should Up be considered any more viable than Star Trek as a Best Picture nominee," Rosen writes. There's the critical approval it received, and the recent precedent for blockbuster nominees, and this:
When you think about it, Star Trek isn't any sillier than Up!

Sure, Star Trek featured such ridiculous things as Romulans, red matter, a time-traveling Spock and Tyler Perry in a reasonless cameo appearance. However, did everyone forget the premise of Up: that an old man uses thousands of balloons to fly his house to a distant fantasy land inhabited by talking dogs and giant, possibly gender-bending, birds?