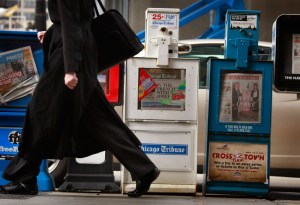 The Times introduced its two-page Chicago supplement on the 20th, and the local-news gambit has spurred "a new-fangled newspaper war" with the Chicago Tribune, according to the Chicago Sun-Times. The Chicago News Cooperative (The Times' partner in the venture) is composed mostly of ex-Tribuners, and the sense of rivalry between the two papers is apparently keen:
The most intriguing development isn't in the coverage the cooperative is producing in the Old Gray Lady, but in the reaction of its arch-rival, the Chicago Tribune. The Trib is looking over its shoulder — and pushing back.

Before the co-op's first edition had even landed at my back door, the Tribune was defending its turf.

Its Nov. 19 front page exposed a secret, $1.3 million "Friends and Family" fund for Chicago aldermen. The following Sunday, the Tribune published a front-page promotional wrap-around with splashy, emotive photos. In typical braggadocio, the headline trumpeted: "Chicago, We Tell Your Stories."
Fortunately, in addition to critiquing the Times Chicago edition–"writing and reportage is solid, but has a prosaic feel"–the Sun-Times offers readers some advice:
Why not just pick up the Chicago Sun-Times?

A Google of "The Art Institute of Chicago" turns up 3.2 million hits. How about a look at what's behind the quiet leadership transition at the DuSable Museum of African American History? Or an examination of the racial/cultural divide over the death of Michael Scott? If you read the Sun-Times, you'll catch that and more.