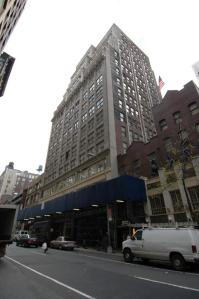 A software development company is in contract to buy two commercial condominiums in a Time Equities building, and it's able to do so thanks largely to a bit of lexicographical acrobatics buried deep within the 2009 stimulus plan.
In short, the verb "to manufacture" no longer means what you think it does, at least within the context of the "Nimble: Small Issuance Bond Program," and that, oddly enough, has bearing on the commercial condominium market in New York City.
Seth Pinsky's team at the city's Economic Development Corporation came upon the expansion of the verb while leafing through the legislation a few months back.
"Historically, if you were issuing tax-exempt bonds, you could only issue them for the purpose of helping a manufacturing company manufacture tangible goods, like widgets," Mr. Pinsky said (for the record, widgets are more metaphorical than tangible). "The definition was expanded to include intangibles like software. It's suddenly opened up the possibility of using tax-exempt bonds to assist the expansion of new-economy companies."
In other words, companies that manufacture computer code, that develop Web sites, that work in biotech or new media, now have access to so-called Nimble bonds, tax-exempt bonds for small and midsize firms that can be used to defray capital expenditures, like, say, Internet servers, or commercial real estate investments.
The first company to take advantage of these bonds was Stellar Services, a software developer, which is in contract to spend over $5 million on two commercial condominiums at 70 West 36th Street. Stellar has preliminary approval for up to $4.4 million in bonds.
"We were always struggling about office space," said Liang Chen, the owner of Stellar. "When we first got to this current space [on 38th Street], we had 5,000 square feet. At the time, we had 10 people. And we thought this was for life. And now we have 28 people [in this office]. And our company has grown to about 100 people."
And so Mr. Chen began searching for new space in a number of markets, like New Jersey, Atlanta and Washington, D.C. And then he found out about this program.
Sunil Aggarwal of Think Forward Financial, an adviser to Mr. Chen, said, "Two percent savings on $5 million translates to $100,000 per year. For 10 years, you're looking at $1 million in savings."
"They're talking about how there's no funding available for small businesses right now, so you need this kind of programming," Mr. Aggarwal said. "Now they've expanded the definition of manufacturing to include software companies, biotech companies, new-media companies. … Those are the industries that can grow in the city."
"Personally, I live in New York, and I want everyone here," added Mr. Chen. "Now, we can hire more people locally. … This is very beneficial to a company like us."
drubinstein@observer.com