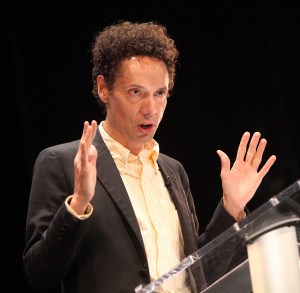 Malcolm Gladwell responds to Steven Pinker's Times review.
Andrew Ross Sorkin wrote his book college style: midnight-6:30, fueled by chips.
The First Amendment does not guarantee you a Fifth Avenue parade.
Katherine E. Brown takes the newly-created Executive Director position at the New York City Ballet.
Mayor Bloomberg should grow a beard.
So the Sex and the City prequel book: it will look like this.
A Fashion Fund gallery.
Seven and a half years later, Lynne Stewart is going to prison–probably.
Why are philosophy and journalism "barely on speaking terms"?
Wealthy investors are buying bridges.
Now you can avoid wasting valuable energy deciding which fast food to eat.
"Most Fortune 100 Companies Don't Get Twitter."