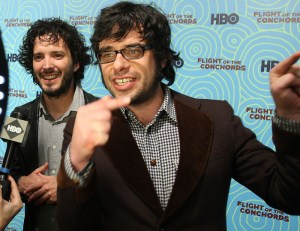 Flight of the Conchords might be over.
A Crown Heights blog catalogs the signs of gentrification; n+1 examines the "Brooklyn gentrification novel."
David Brooks on the New York sex diaries: "In today's world, the choice of a Prius can be a more sanctified act that the choice of an erotic partner."
The iPhone is becoming "the ebook reader of choice."
Vogue's former events director will be in charge of transplanting Fashion Week to Lincoln Center.
The Daily News and the Philly Daily News make a World Series trade.
A City Council mailer featuring David Paterson must be fake, right?
Above the Law brought before the law.
Bloombergs are selling again.
Dwight Garner digs up a seductive Truman Capote, and other book ads.
The Chicago Tribune and the AP are on a break.